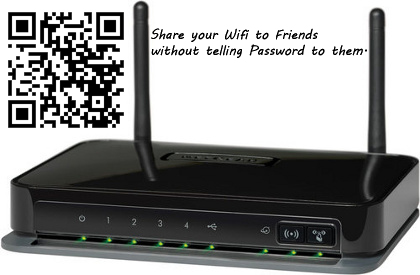 Share your Wifi to Friends without telling Password to them: If you want to share your Wifi to your friend ? And you don't want to tell password to them ? Here is the simple solution to this situation.
Just create a QR code of you Wifi network credentials. There are a number of QR Code generators are available like QRStuff or simple Chrome Extension QR Creator. Use one of them to create QR Code. Just enter in your SSID-network name and password. Make sure you choose the right encryption type, too.
Next, your buddy will need to have Barcode scanner on their phone. There are may Barcode scanners are available for free on iOS and Google Play stores. To connect to your network,  just scan the QR code. It'll automatically connect to your network.
via lifehacker