Make your Android look Stylish and Customized using Minimalistic Text: Are you looking for an app to make your Android Home Screen beautiful. Minimalistic Text offers a superb way to customize and style your Android home screen. It has pre-built widgets for calendar, weather, time, and date information and battery level.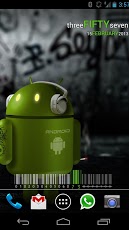 There are several different widget types to choose from, all of which present information in a rich widget format. With a simple operation, you can change boring Home screen to stylishly build and information rich Home Screen. It is available free to download in Google Play Store. Pro version is also present supports latest updates and ads free.
Updated…
Make Your Android Home Screen Look Stylish and Customized Using Minimalistic Text
If you have ever used a smartphone, you'll have noticed that after some time it tends to look boring. After constant use, it's always best to change the home screen layout, so as to reinvigorate the look of the phone. A quick search in the play store will reveal a number of different apps that have the ability to change your home screen. The issue is which is better?
Minimalistic Text for a Better Looking Home Screen
For now, we'll recommend Minimalistic Text. The Android smartphone is customizable. It offers more customization than any other mobile OS. It's because of this that you have the ability to change up your home screen. Your home screen can be changed in many ways.
You can do this via downloading every single app/widget and checking if it's what you want. Needless to say, this can be very time-consuming, and it will take a lot of effort before you find the desired app. Minimalistic Text saves you from this hassle as it offers you a superb way to customize and style your home screen.
Customization Options on The App
The app itself comes with pre-built widgets for calendar, weather, time, date and even the battery level. There are a lot of customization options that can be found in the app. Minimalistic text in its basic default setting comes with a translucent black bar that allows you to input whatever text you want. This also does apply to all the other variables such as the date, weather and battery level; you get to input the text.
Some other options that you get are such as the ability to decide on the exact size of the widget, the text that goes with each widget and the look of the text. This sort of customization is what has attracted many users to this app. These different customization options can allow you to make your home screen similar to a Windows Phone screen (with a little designing skill and experience) if that's what you prefer.
The app can make your boring home screen to one that'll make you amazed and more interested with your device. Right now, the app has support for many different languages, and it also has Buzz launcher support integrated as well.
Overall, it's a great app to have. For those interested, the app is available for free on the play store. There is also a pro version available on the market (which is more of a donation/contribution to the developer) that allows you to receive new features earlier than everyone else and it removes advertising on the app.
Conclusion
This was our choice for an app that can give your home screen a makeover. We'd like to hear from you and what you think about this app. Have you ever used it? Do you think it's a great app for your home screen? Do you have any other apps in mind? Let us know in the comments section below.