Turn Your Windows Phone 8 Into A Windows PC Remote: Controlling a PC with Remotes is common, but controlling a PC with Windows Phone seems like a good idea. You can manage the system, play music, adjustment of volume sitting at some distance. It is very useful if you are using your PC as a Home Theater PC. You can use this facility by downloading a simple program called PC Remote Server.
How to Setup:
1.Download PC Remote server and install it.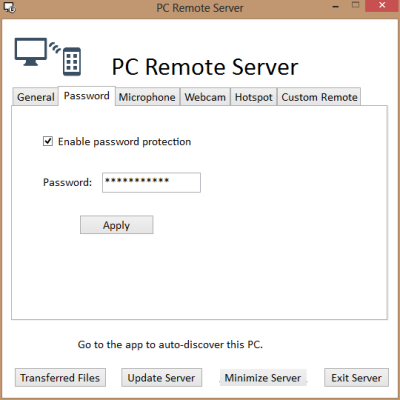 2.After installation open it and set a password to it by navigating to "Password" tab.
3.Run the server and minimize to system tray.
4.Download and install PC Remote on your mobile device. On your mobile , navigate to store and search for 'PC Remote' and install the free app.
5.The Phone and PC should be on same WiFi network.
6.Once your PC appears in Device list, tap on it to connect. or Refresh it to select the device.
7.Enter the passwrod. (Password on 2 step)
8.Now your phone displays the controls of some apps and media controls.
9.You can also use your mobile device as a track pad for your system.
10.It also gives you access to all the basic power functions like, Shutdown, Restart, Hibernate, Logout, Sleep, Monitor On/OFF.
Download PC Remote Server For PC.
Download PC Remote Server For Phone.