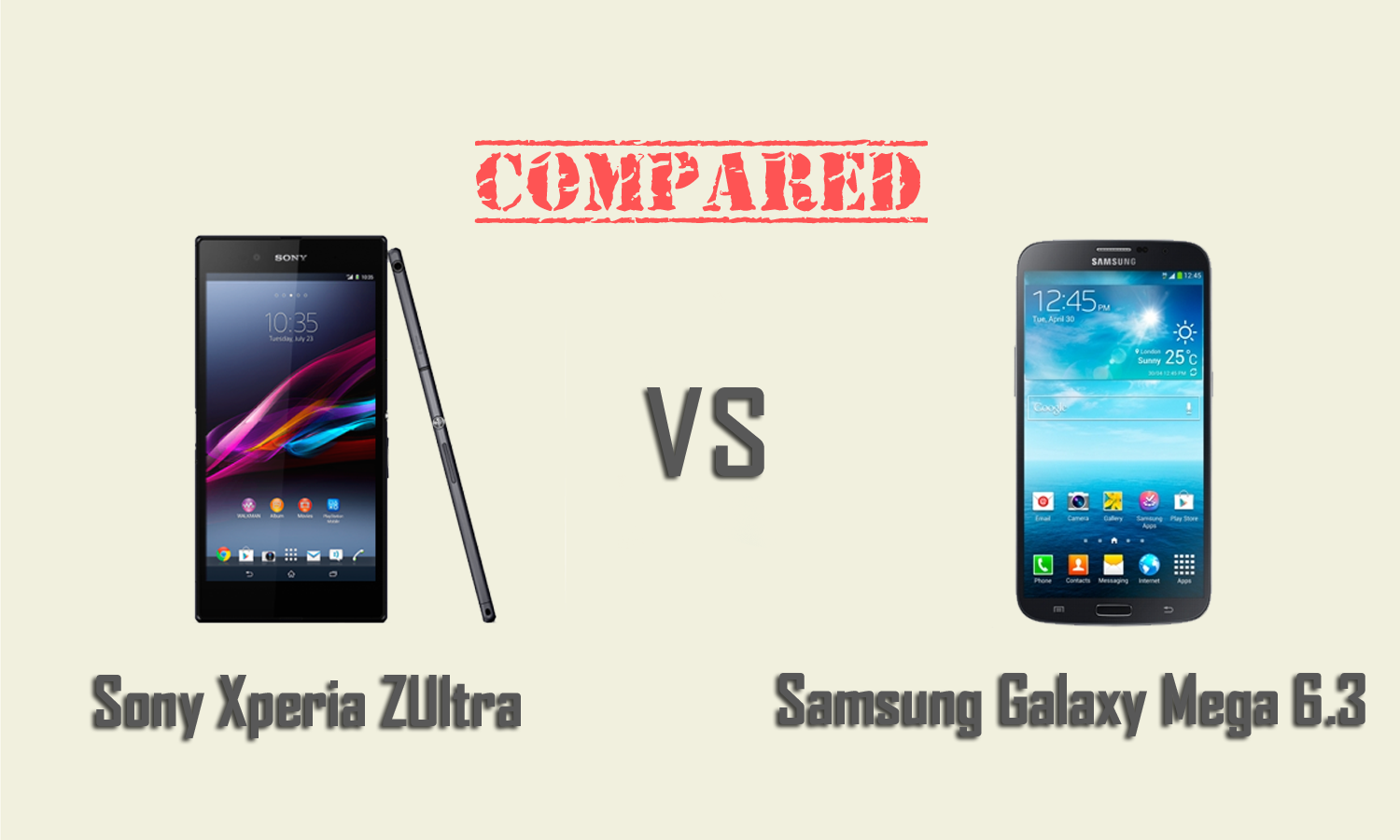 As analysts mark Samsung Mega and Sony Xperia Z Ultra as real competition to one another, both the rivals stand in a tough rivalry in front of one another. Both the phones are amazing releases from the two giant Smartphone producers. While Samsung continues to rule the Smartphone market with full sovereignty, Sony is all set to break its monotony and give more the Smartphone lovers. The Smartphone world is seeing the best phase and we are yet to see more amazing changes in it. Talking about the specs of both these phones, here is a list of specs of both the devices. Check out which one you prefer the most by taking a close look on the comparison of Sony Xperia Z Ultra and Samsung Galaxy Mega.
Display:
Both the devices feature similar sized screen, but the main difference is with respect to the screen technology used in both. Z Ultra comes compacted with 6.4inch screen with Full HD Triluminous display for mobile powered by recent X-Reality for higher screen resolution. The HD screen offers 60% more of a subtle image and video experience as compared to other smartphones. It comes with a resolution of 1920×1080 pixels with a pixel density of 342ppi to give a precise image.
The Galaxy Mega 6.3, on the contrary, comes with HD Super Clear LCD screen with an incredible widescreen viewing of apps, videos and websites. The pixel count is less than Z Ultra and is limited to 720×1280 pixels and 233ppi. The 6.3-inch screen features a 720p display with vibrant resolutions and amazing contrast. The great thing about Mega 6.3 is that it is equally bright when used in direct sunlight.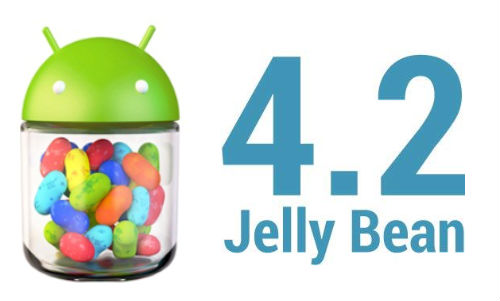 Operating System:
Both the devices run on the latest version of Android Jelly Bean software version i.e. Android 4.2, designed out of the box. The Version 4.2 Jelly Bean supports a diverse range of features which include camera app, gesture typing, Daydream, enhanced Google search, Android Bean and advance Google Now. It also renders support wireless display permitting users to share movies, videos and images on TV.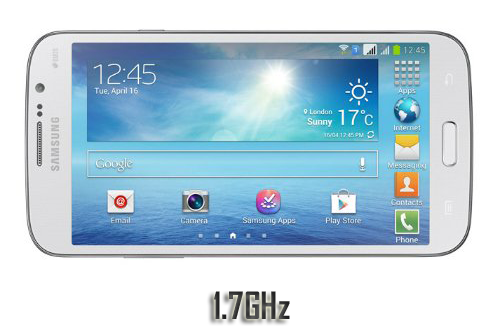 Processor and RAM:
Accidently, both Samsung and Sony have brought the new Qualcomm Snapdragon system on Chip technology with their models.
But the difference is Xperia Z Ultra comes compacted with Snapdragon 800chip showcasing a quad-core Krait 400 CPU clocked at 2.2GHz mated with Adreno 330 graphics. Featuring a RAM of 2GB, the device is a sturdy device for all types of multi-tasking.The Galaxy Mega 6.3 comes compacted with QUALCOMM Snapdragon 400 chip powered dual-core Krait CPU clocked at 1.7GHz with Adreno 305 graphics unit. The device also sports a RAM of 1.5GB.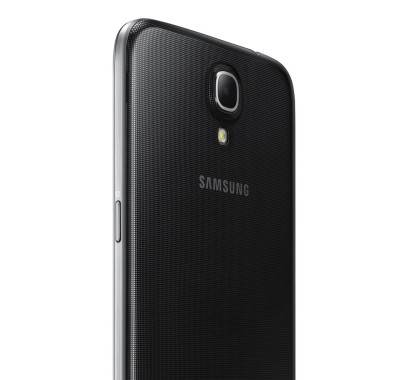 Camera:
Galaxy Mega 6.3 possesses a primary camera of 8MP along with LED flash, autofocus, and a front camera and 1.9MP. The rear camera has the capability of recording 1080p video @fps. It also comes with Sound and Shot, Beauty Face, Sports, Night Shot, Best Photo, Panorama and HDR.
On the contrary, Z Ultra sports an 8MP camera with Exmor RS with image sensor technology with next-gen Backside illumination light sensor.it also sports HDR for better photo and video quality against strong backlight. The new Smartphone of Xperia flagship features 2MP front camera. The cameras of both the devices possess the capability to record 1080p videos at 30fps. The additional feature comprises Continuous burst mode, Touch Capture, While Balance, Sweep Panorama, Face detection, Superior Auto, Image Stabilisation, Self Timer, Smile Shutter, Send to the web, Quick Launch, Object Tracking and more.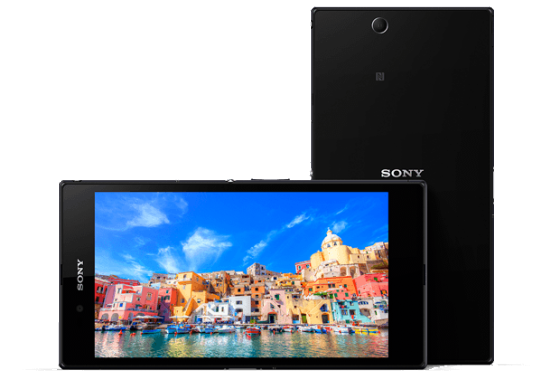 Connectivity:
Both the device, Z Ultra and Galaxy Mega 6.3 offer great connectivity through Bluetooth v4.0 as well as Wi-Fi 802.11 a/b/g/n/a dual band along with Wi-Fi Hotspot, Wi-Fi Direct and DLNA. Other than the connection they also support NFC and 4G LTE network speed.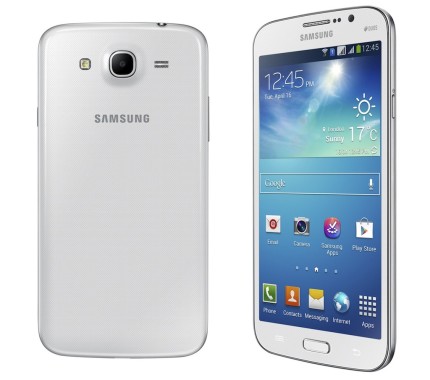 Storage:
The Galaxy Mega 6.3 offers two variants of 8GB and 16GB whereas Xperia Z Ultra will come in only 16GB version. However, as far as expansion is concerned both offer microSD card slot for the expansion of storage up to 64GB.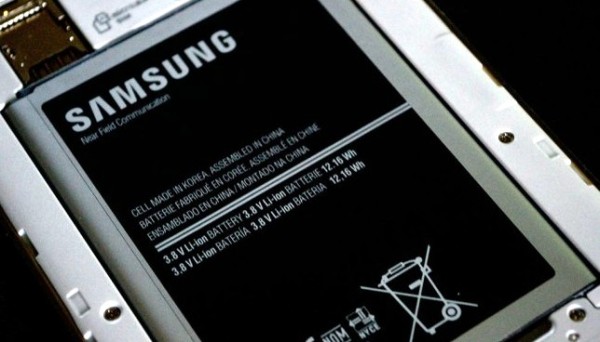 Battery:
The battery size of both the Smartphones is almost same. Mega 6.3 possesses a battery of 3200mAh whereas Z Ultra comes compacted with a battery of 3050mAh. Speaking of the performances of the battery, Mega 6.3 delivers a talk time of 19hours and browsing duration of 8 hours. As per a battery test report, the Mega can go on for 60 hours with a single time charge with one hour of calling, browsing and video streaming.
Xperia Z Ultra, on the other hand, claims to offer a talk time of around 14 hours and a standby of 790 hours, video playback of 7.5hours and music streaming of 120 hours.
Extra:
Xperia Z Ultra offers two extra features that no gadgets from Samsung offer. It offers the amazing water and dust resistant feature. The device is capable of resisting 150m of the water level. It is one of the most extraordinary features of Ultra Z. another great thing is it sports Stylus which is not supported by Mega. Any pen, pencil or stylus of more than 1mm diameter can be used on the Smartphone. This has truly made Ultra Z an out of the box device.
Verdict:
Sony Xperia Z ultra is a bit larger phablet device, hence, some smartphone user may find it difficult to use in the first glance. However, rest of the feature seems great and amazing in comparison to the Mega. Both the devices are amazing in looks and serve their purpose well. While Xperia Z ultra is priced at $824, Galaxy Mega has been priced at $688. With this new launch, the competition between Sony and Samsung has heated up all the more. If you are Samsung fanatic, then Mega 6.3 is surely your cup of tea. However for Xperia lovers, there is nothing better than an enhanced version of Z. you will surely love the built of the phone exclusive features, it offers to its users.
Of course, Xperia is more expensive than Mega, so if money is the only concern for you, then Samsung Mega 6.3 may be the right purchase for you. Though with the launch of Mega Samsung seems to enhance its sales perspective but it has still not been able to beat the sovereignty spelled over the masses by the Z series.