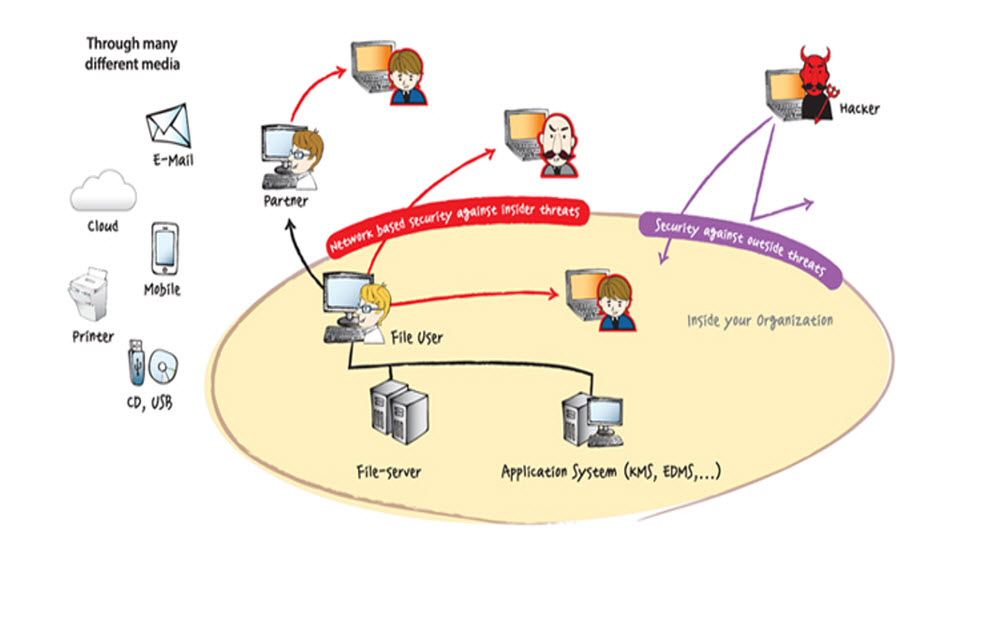 Enterprise Digital Rights Management, or EDRM, is increasingly gaining prominence as this solution addresses issues related to perimeter security, document management systems, and other sensitive information in corporations, and government and private organisations. It might also include your marketing strategies and business plans.
EDRM protects sensitive information by restricting access and implementing usage and access rights information, regardless of where the information is circulated. Also, this restriction of access to sensitive information and important documents is applicable throughout the lifecycle of the documents/information.
Securing Intellectual Property
Studies reveal that in any company, IP (percent of intellectual property) accounts for about 70 percent of the company's assets. And at least 6 percent stolen annually. If you have painstakingly developed a product that you know will sell like hotcakes, and someone else passes off your idea as his, you are at a loss. Consequently, your sales nosedive, you lose the return on investment, and you are left behind in a race amongst fierce competition. This requires the implementation of EDRM.
How is EDRM Effective?
With the help of Enterprise Digital Rights Management, the owner/s of intellectual property can exercise their discretion as to whom they will allow access and can accordingly assign the rights to edit, copy, and view files.
For instance, if sensitive files are to be accessed by an employee or a client, the owner of these files will dictate whether they can be copied and pasted, printed, and in some cases, if the file is read-only, the time you can view the file is also specified and restricted. However, for these rights to be effective, they have to be activated or invoked.
The other way in which EDRM system works is by embedding controls during the process of product development. Extensive usage of this security tool (EDRM) has also brought another fact to light: as compared to the traditional 'perimeter-dependent solutions', EDRM is much more effective as controls travel with content, two types and most importantly flexible.
Types of EDRM
Digital Rights Management applications to types: one that controls the distribution of information to consumers, and one that addresses issues regarding access to sensitive information like crucial content within an enterprise. WhereEnterprise Digital Rights Management is concerned, it is mainly employed to ward off 'insider attack'.
To protect the intellectual property of your organisation, you could invest as little as $5,000 to protect your important and sensitive documents. As far as applying EDRM, you have the option to choose from the following configurations. These include the following:
Hybrid Internal and External EDRM
Embedded EDRM
So before your IP gets stolen, it is the time you gear up for investing in a security tool if you have not restricted access to your IP. How about trying out EDRM?