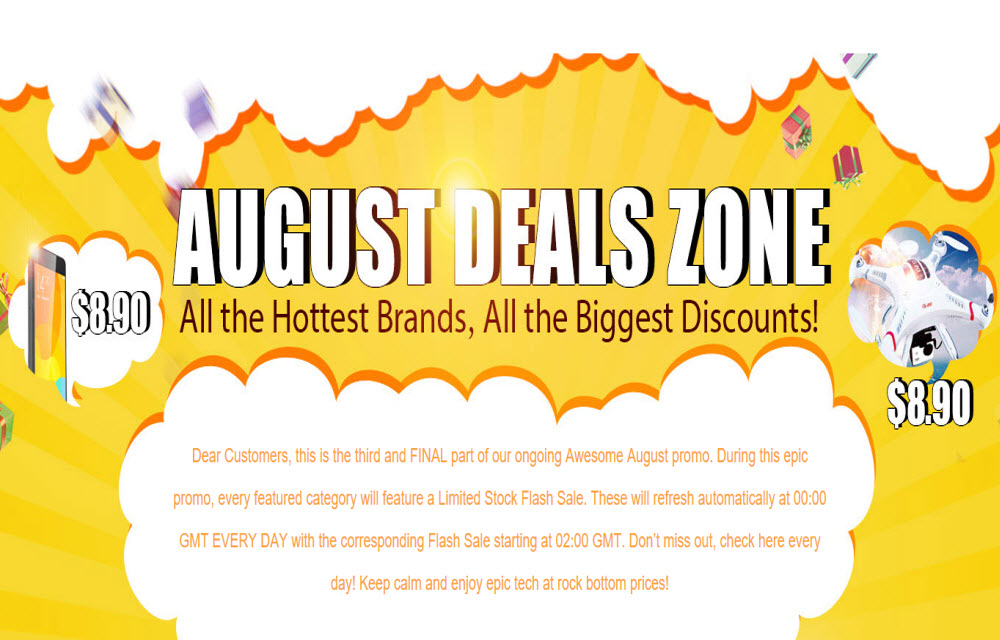 It looks like Gearbest is going to show their best deals, with August Promotion. Gearbest is one of the most popular e-commerce site present in China with worldwide shipping. It is a great site for anyone wishing to find a good shopping deal, especially if you want to buy a new gadget.
If you're always looking for deals and ways to save cash while shopping online but don't really have that much time to spend. The only problem is, the number of items is large that you can't possibly keep up with all the deals. So we are here to help you find best deals on Gearbest on the go.
Related Articles

Flash Sale Timely Deals
Flash Sale Timely deals are unique and limited time offers that are frequently changed after a specified time. In this category Gearbest offering unbeatable deals on Asus 10050mAh Power Bank, Cube I10 Tablet PC, Original Xiaomi Yi Action Camera, Xiaomi Mi4i Phablet and much more for $8.90 for 1PC.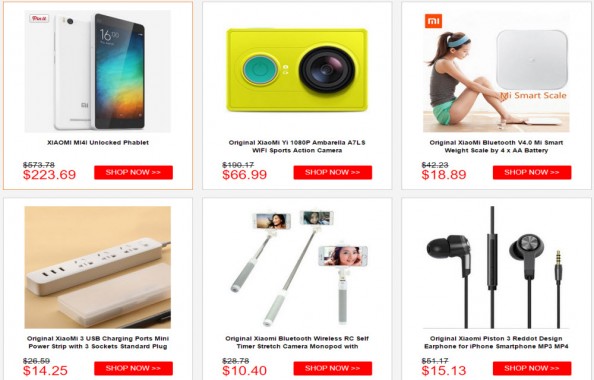 Xiaomi Products Flash Sale
It is a limited stock flash sale of exclusive Xiaomi products. The product will refresh automatically at 00:00 GMT every day. Every gadget in the Xiaomi sale offers more than 50% discount.
The listed Xiaomi products are Xiaomi MiUi TV, Xiaomi 10400mAh power bank, Xiaomi Mi4i Phablet, Xiaomi Yi 1080P Action Camera, Xiaomu Bluetooth Smart Weighing Scale, USB Charging Power Strip ($14.25), Xiaomi Bluetooth Selfie Camera ($10.40), Xiaomi Piston 3 Reddot Design Earphone ($15.13), Xiaomi XiaoYi IR ($32.99), New Xiaomi Mi WiFi Router ($151.99), Xiaomi Mini Speaker ($22.59), Xiaomi Wireless Bluetooth Gamepad ($21.59) and many more.
[quick_offer]
Deals on Gadget
This section shows a list of available deals for categories like Phones and Accessories, Watches, Computers, Tablets, RC Toys, Action Cameras, Outdoor & Sports, LED Lights and Smart Home Gadgets. It shows users to easily find deals that appear discounted as per the category.
Here are the some best deals category wise.

Smartphones
Meizu M2 Note 4G LTE Phablet: $149.99
Huawei P8 Lite Smartphone: $207.99
Mstar M1 Pro 4G Phablet: $136.99

Watches

Computers
Cenovo Mini PC TV Box: $90.29
Beelink i68 Box 4K: $78.99
Xiaomi Wireless Speaker: $18.89

Tablets
Cube I6 Air Android+Win PC: $152.40
Teclast X98: $205.12
Onda V919 Win10+Android Tablet: $187.89

RC Toys
MJX X600 Hexacopter: $31.55
JJRC H8D 6 Axis Gyro 2.4GHz: $115.99
XK Detect X380 GPS Headless Mode 2.4G RC Quadcopter: $309.99

Action Cameras
Amkov AMK5000S Wireless WiFi Waterproof Sports Action Camera: $70.44
GITUP GIT1 1.5 inch LCD WiFi RF Control Action Camera: $109.90
Dome G90 – 7S GS90C 2.7 inch 16.0MP Resolution H.264 1296P Super HD Car DVR : $66.99
With these enticing new deals, Gearbest is positioning themselves as the go-to choices for those looking to get into a new gadget shopping. To grab the Gearbest flash sale deals, existing users can begin using signing into their account. And the same form houses the sign-up option as well. To register an account for the Gearbest, you need to provide your email address and set a new password. The flash sale is for a limited time only, the deal starts from August 21st and ends on August 31.