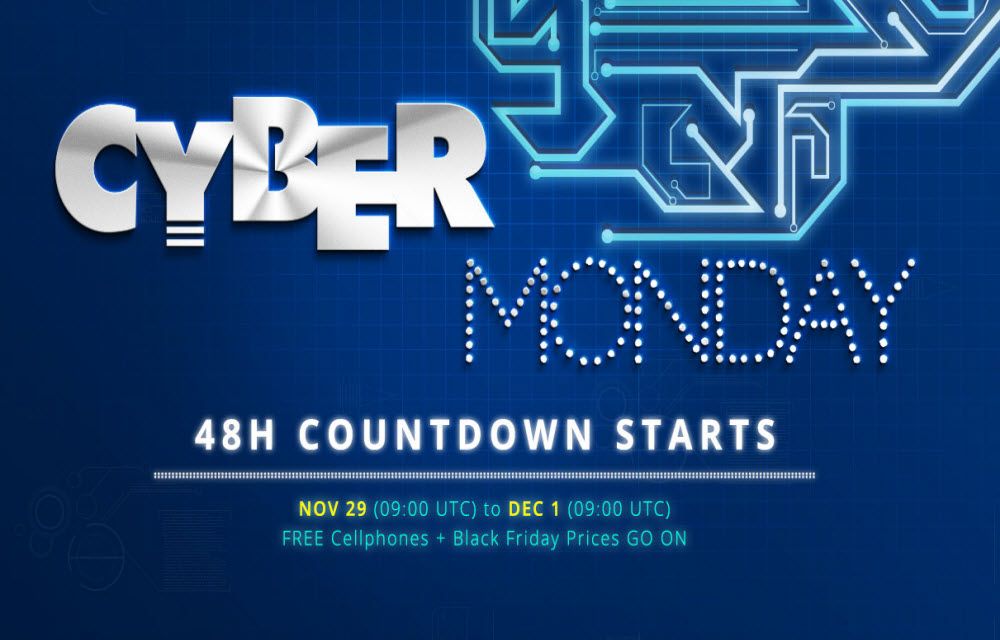 Cyber Monday is one of the greatest tech festivals on the Internet. Everbuying has already taken a great role in the Cyber Monday sales as many other brands. For those who don't know about the cyber Monday. Cyber Monday is a great tech festival, where you can find the best deals and offers for the tech products. you can find the deals for almost all tech devices like Smartphones, Tablets, Computer and Networking Accessories, Consumer Electronics, Smart Watches and many more.
Everbuying had already announced great offers for the Black Friday which ends on 29th November. But they are not disappointed, anyone. Because they announced the Cyber Monday sales. The cyber Monday sale is gonna begin from 29th November 2015 (9:00 UTC) to 1st December 2015 (9:00 UTC). The visitors will get FREE cell phones + The Products for Black Friday Prices!… The Prices will be same as that of the Black Friday sale and You can get something more from the Cyber Monday. So, we may assume that the Cyber Monday is the continuity of the Black Friday sale.
You can participate in the Everbuying Lucky draw to win a Smartphone for  FREE by paying just $0.01. You can win any of the following smartphones Given below from Cyber Monday 2015 Everbuying Lucky Draw.
JIAKE G9200
TIMMY E86
CUBOT GT95
V5+
Mpie S168
MIJUE M680
The rules of the Lucky draw is as follows:
1. Enter the Lucky draw to get a chance to win any of the Smartphones above. There is a Total of 20 pieces in the Lucky Draw for JUST $0.01!
2. To enter the Lucky Draw, Submit a paid order of at least $200.00 between November 29th (09:00 UTC) and December 1st  (09:00 UTC).
3. Selected orders will be automatically Redirected to the Lucky Draw.
4. If you are a winner, You will get a Notification by E-mail within 7 days of the event ending date.
5. You will be Eligible to get the Prize only once.
Cyber Monday 2015 Everbuying Deal Details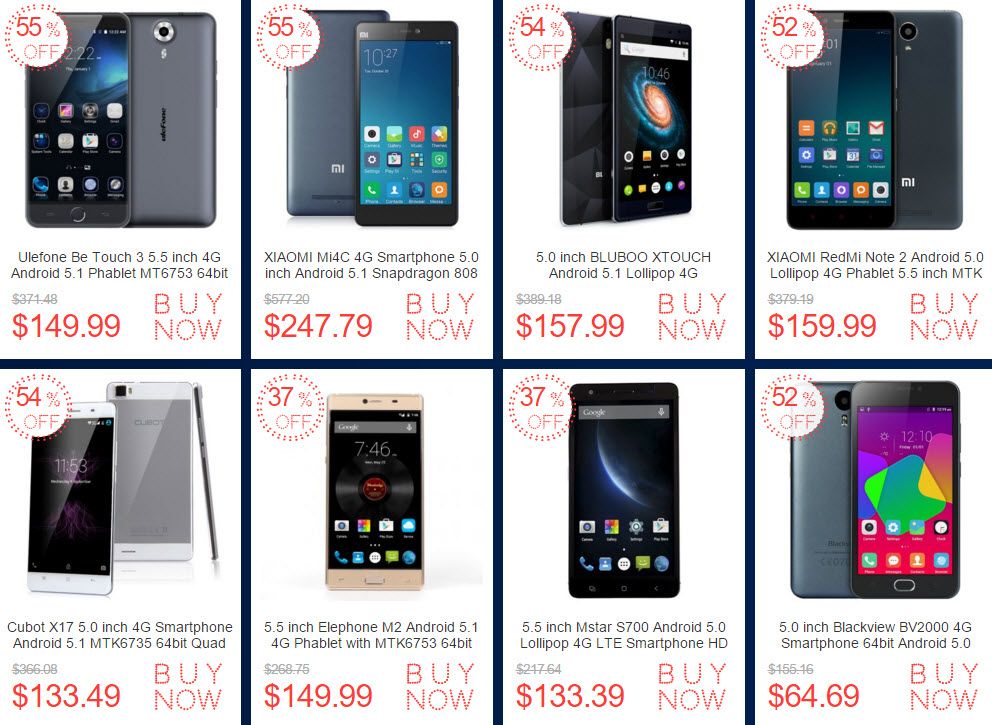 Smartphones
The Everbuying Cyber Monday sale has 16+ Best selling and top quality smartphones in the list. The smartphones are giving Up to 55% offer! The price varies from $31.69 – $443.49. You can select the best fit from the wide range of the Smartphones. All of them are giving the best specs for their price. Here is the list of 16 Best selling and high-quality Smartphones which giving the best specs for their Price.
Ulefone Be Touch 3 Phablet – $149.99
XIAOMI Mi4C – $247.79
BLUBOO XTOUCH – $157.99
XIAOMI RedMi Note 2 – $159.99
Cubot X17 – $133.49
Elephone M2 – $149.99
Mstar S700 – $133.39
Blackview BV2000 – $64.69
DOOGEE HOMTOM HT5 – $97.59
Ulefone be touch 2 – $166.29
Letv 1s – $192.29
MEIZU PRO 5 – $443.49
OUKITEL K6000 – $117.99
LY L7 – $31.69
Cubot X15 – $134.39
Elephone P8000 – $145.59
We already reviewed some of the above-given smartphones. Thus, The reviews may help you to find more about the smartphones and select the best out of them. Read the given below review to find out more about the top selling and most popular smartphone given above.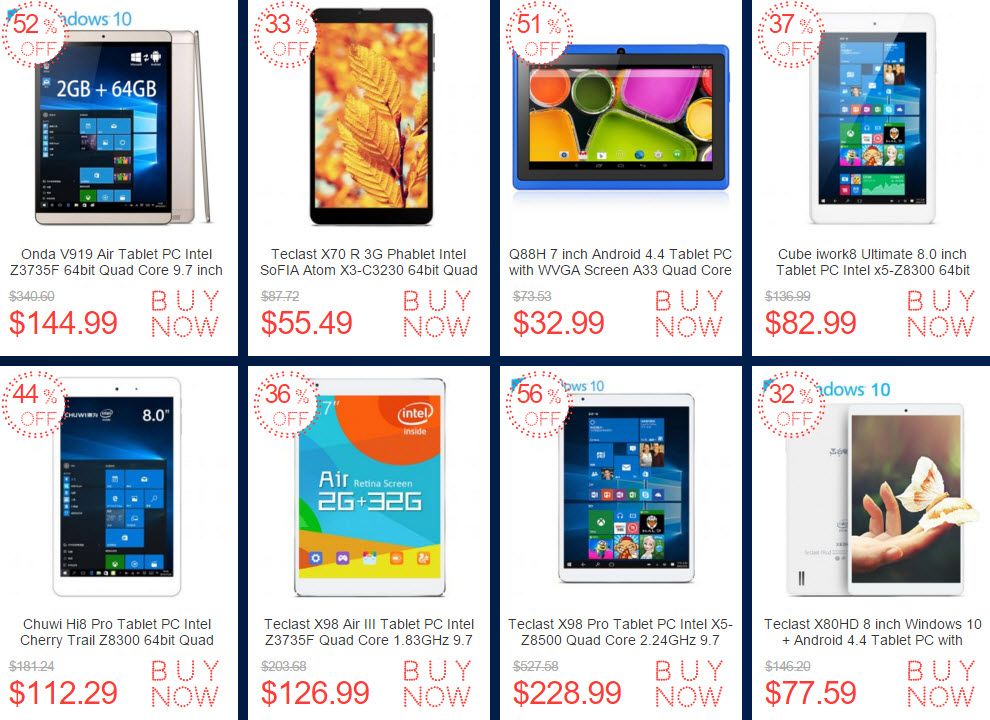 Tablets
Tablets are being popular among the tech nerds. As the windows, OS began their journey with the tablets, It can be used as a Mini PC. So the tech nerds and Geeks can have a PC near them always. So, They loved it a lot. The Onda V919 Air Tablet PC – $149.99, Teclast X70 R – $55.49 are more popular among the tablets. While the Onda tablet is well loved for the Performance the Telecast is loved for its Cheap price. You can find out more tablets on the Everbuying Deal store.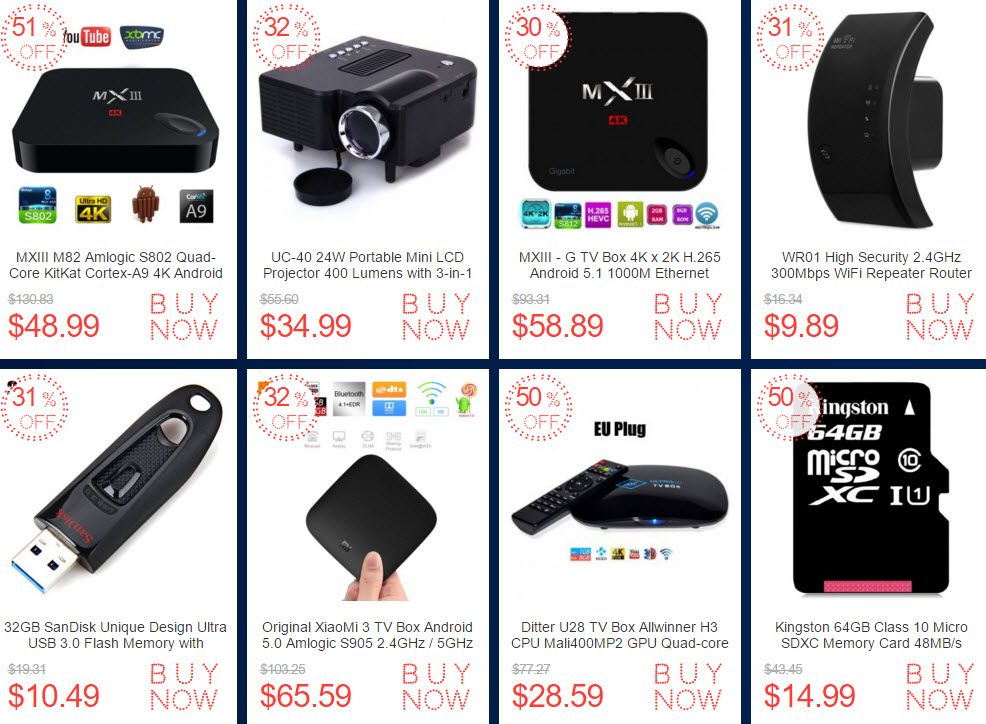 Computers and Networking
Computer and Networking section consists of the Computer peripherals and accessories. This Section contains Memory cards, Pendrives, Projectors, TV box, Routers, Connectors and cables, WiFi adapters and everything you need to fulfill the Computer and Networking needs. The products are starting from $9. You can find more about Computer and Networking Product Deals and Offers on the Everbuying Cyber Monday Computer and Networking Store.

Smart Watches
Watches are the time savers. But today's watches don't' like to be only Timesavers. They are Smart, Versatile and Elegant. The Smartwatches can do almost anything like as a Smartphone. You can Use Bluetooth, Send SMS, Watch movies, Surf internet and everything you can do with today's most advanced smart watches. That's why they got a place in  the Everbuying Cyber Monday sales. You can find the Discount starting from 25% – 55%. You can Reach the Everbuying Cyber Monday Smart watches page find out More Deals and Offers.

Consumer Electronics
The Consumer Electronics Section consists of Headphones, Speakers, Bluetooth devices, Web cameras, Adapters, Various types of Cables, MP3 Players and many more. You can avail the best deals fit for you. Don't forget that, there is only a Limited time and a Limited number of products. So, Don't be lazy. Be quick and get the offers. You can go to the Everbuying Cyber Monday Consumer Electronics section to find out more.

Toys and Hobbies
Toys are always good friends to the children. If you are very much concern of your child, you must gift him some toys. And this is the right place to find them. The large range of toys Ranging from the Favourite Quadcopters to the Funny Teddy Bear dolls. There is a wide range of products like Dolls, Cubes, LED Products and many more that is very enjoyable. They are giving it for a most affordable price. You can reach the Toys and Hobbies section by Clicking here.
Other Great Deals
The range of Various products in the Everbuying Cyber Monday sale is not complete. There are a number of great products where you can save so much money. You can get Up to 60% offers (Sometimes more) from this tech festival. The products like Mini WiFi Smart IP Camera's, Adjustable Virtual Reality Headsets, Magic Bluetooth controlled bulbs, various LED products are being a great decoration to the Cyber Monday sale. You can find almost anything from this great sale. So don't waste the time. As we mentioned before, There is only a limited time before you ( Almost 48 hours) and Most of the products are already booked by thousands of customers. So the number of products are also limited. So don't waste your time anymore. Just Visit the Everbuying Cyber Monday sale and be greedy!