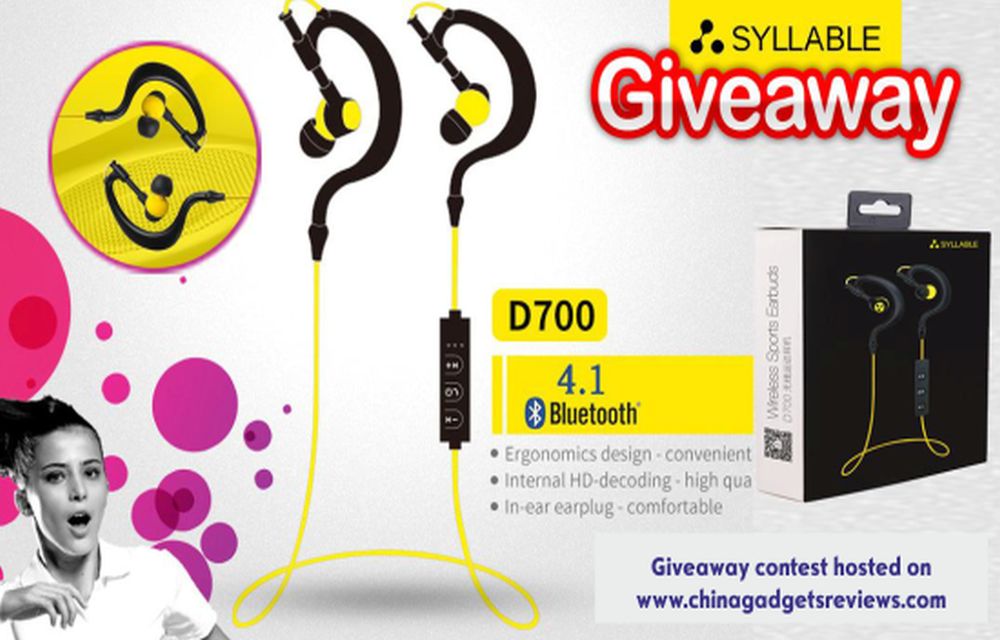 Giveaways are fascinating concepts in the Online. The Product sellers use this beneficiary method to market their product. The participants in the Giveaway contest share the product information with their friends which is very easy as people every day sharing some posts to their friends and family. At last one lucky winner will get the Prize. Here we found one new Giveaway for their product launch.
Syllable announced a giveaway for everyone eligible to participate and win two Syllable D700 Portable Bluetooth headsets. Their new contest for March 16-30, 2016 is currently started and running. Winners of this Giveaway contest will get 2 Syllable D700 Bluetooth Headsets.
To get the free giveaway all you need to do is Like Syllable's Facebook page and the Giveaway post and share the post to Groups having minimum 50 or more members. Those who shared in the most groups will be the winner. One last condition is the contest must see minimum 500 participants. If one person refers 50 participants, then just ten persons can make it cross 500 easily. After sharing to a group save the link to the post you shared. You have to send this links where you shared the posts to the following email ID pr@offerworld.in in a text file.
This contest ends on March 30, 2016. It starts from March 16. So, don't be the delay in participating. Take your chance if you are interested in Giveaways.
The prize of this contest Syllable D700  Bluetooth Headset costs $19.99. It has over the ear speakers with good design. This is a real good deal for a Giveaway contest. You can check the product details and specs in Amazon with all details.
Read Syllable's Contest rules below.
Syllable International Giveaway:
Rules:
1.Like Syllable main page and this post.
2.Share this post with as many groups (more than 50 members) and your timeline.
3.All actively shared links send to pr@offerworld.in in a text file.
4.Whoever shares it to the most groups wins.
5.The deadline is 30, March.
6.We choose a winner if Minimum 500 users participate.
Prize: Sports Earphones, Syllable D700 Portable Wireless Stereo Headsets with Built-In Microphone Sports/running & Gym/exercise Bluetooth 4.0 Earbuds Headphones Headsets for Smart Phones Devices (Black).
NOTE: Our website is not responsible in any way to this Giveaway.