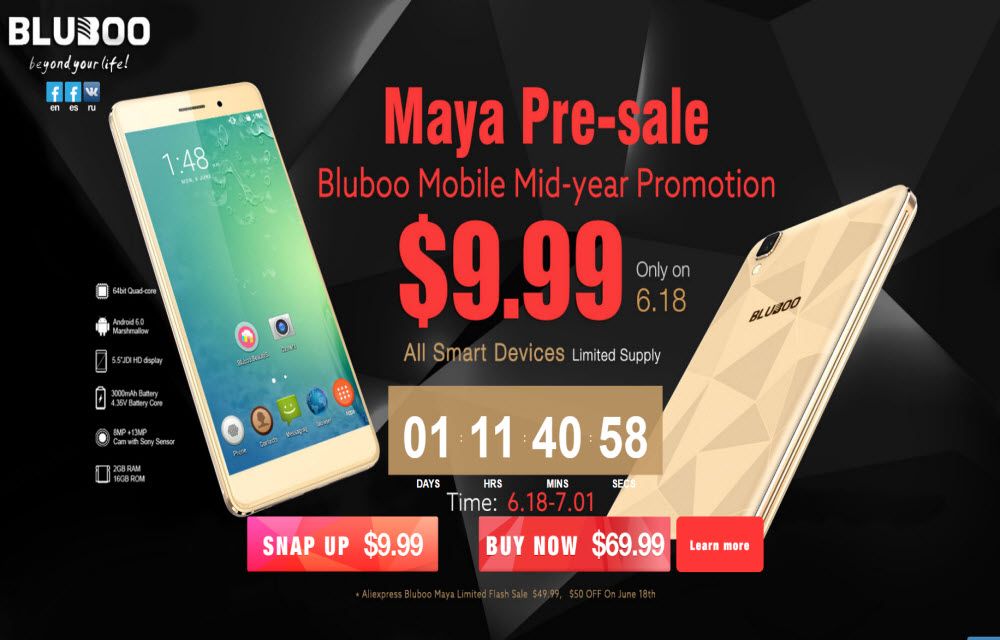 Bluboo announced their Anniversary celebration along with the presale of Bluboo Maya starts on 18th June and ends on 1st July. Bluboo Maya is their new smartphone with interesting specifications.
In the Presale cum Anniversary sale, the special product is Bluboo Maya which is about to be released to public on official sale and through the Snap up deal, we can get it for just $9.99. Next to it, the previous Bluboo Smartphones – Bluboo Xtouch, Bluboo X9, Bluboo Picasso, Bluboo Xfire 2 and Bluboo Uwatch, are available for discounted offer price and a special Snap up deal also given for all the devices for the same price of $9.99.
How to get Bluboo Maya and other Bluboo Devices for the price of $9.99 ?
Bluboo Maya is available for the lowest price of $9.99 for only on 18th June in the Snap-up deal. The snap up deal is for limited pieces only. Before it, first note down the time of the deal starts on 18th June in your region. Lets see how to get the deal.
Go to the event page – http://promo.bluboo.com.cn/maya/
When the deal starts, the shop logos will be shown for the devices, where you can get the deal.
As the snapup deal is limited for every shop, they may run down if you go late or already shopped by someone else. In such case, you can try another shop in the list to get the deal. There will be more online shops conducting this deal.
You can try up to 10 times for the deal.
If you successfully get the snap up deal price of $9.99, then you can get the free giveaway of a Explosion – Shatterproof protective film cover by posting the deal screenshot in the FB link given on the promotion page.
If you missed the snap up deal, you can still get all the Bluboo devices on special offer price until the Presale cum Anniversary , which starts on 18th June and ends on 1st July.