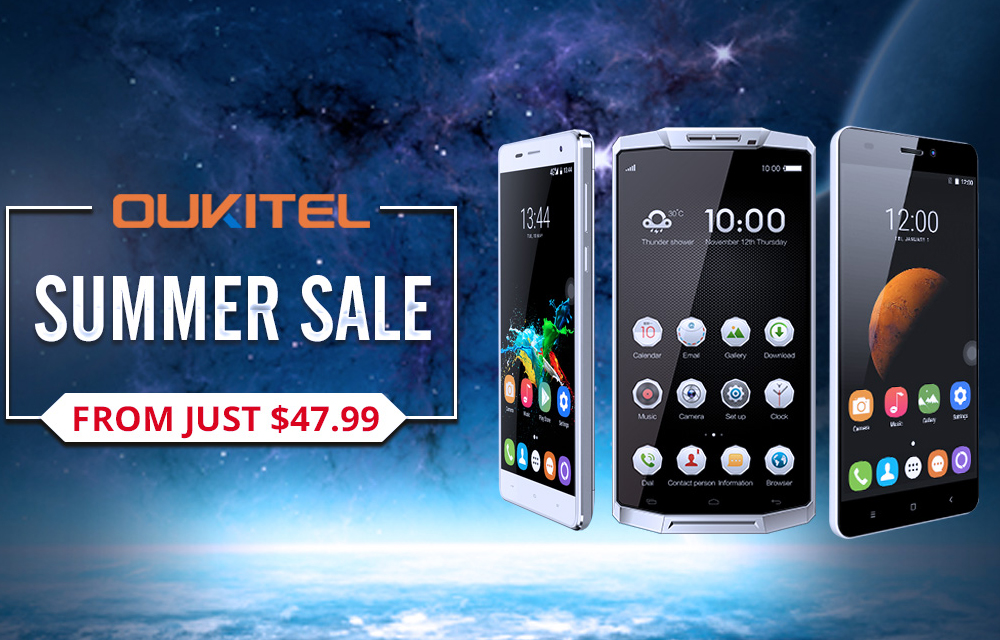 OUKITEL is to release a big battery smartphone named OUKITEL K7000 with 7000mAh battery capacity. As always, this time too the company focusing on providing the features at an affordable rate. The device will feature a 5.0-inch HD display and will run on Android 6.0 Marshmallow OS. More details of the smartphone is not yet out on the internet. Anyhow, we can speculate that the company won't disappoint us and we can also expect a cheap rate when compared to the competitors.
While K7000 smartphone is on the way, OUKITEL is cooperating with everbuying to conduct a summer flash sale of their lovely products which will bring the cheap devices with some more cheapness. Recently, the OUKITEL co-operated with the Aliexpress on a flash sale which was a huge success. This time too, we can expect so many devices at very cheap rates from the OUKITEL showcase.
In the sale, there are a bunch of dominators on the list including the K10000, K6000 Pro, K4000 Pro, K4000 C3 and C2. The 10000mAh battery powered K10000 will available for a price tag of $142.99. Normally, the device sold out for a price of $199.99. The device features a 5.0MP front and a 13.0MP back cameras alongside the quick charging technology. K6000 Pro smartphone will be available at at $144.00 with some good specs. K4000 Pro and K4000 will be priced $86.99 and $85.99 respectively. The list will be complete with the C2 and C3 which are priced $53.99 and $47.99 respectively.
In short, all the smartphones will be available even more cheaper from the sale. There will be only a limited devices put on the sale for letting the quick people avail the products. If you would like to avail one of those devices, it will be a better idea to be quick from today itself.
So, OUKITEL is completely ready for the K7000 launch with amazing offers to the smartphone lovers and especially for the OUKITEL fans. The summer flash sale is a small beginning of the same which grows the expectation of more such sales from the company. We are also excited to grab our favorite pieces from the sale and we think, you too.