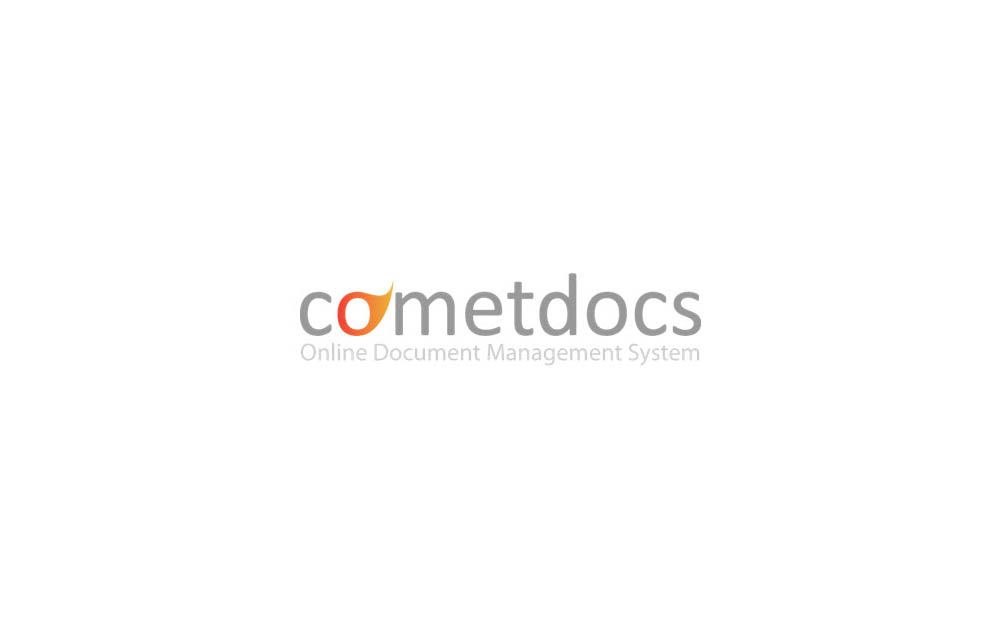 How long has it been since you downloaded the last app on your mobile device? How many apps do you have on your phone, except for the standard ones coming with cell phones? You know those pesky apps that you can't delete so you just bundle them up in one folder and hide somewhere never to be seen again. How many useful, everyday applicable pieces of software do you have on all your touchscreen devices? If your answer is somewhere between 50 and a 100, then you could say that you are using a huge chunk of the potential in front of you. Today's devices have a mind-bending capacity to hold an extraordinary amount of apps and tools.
Most people have apps such as Facebook, Twitter, Instagram, Snapchat and similar social media, a few games here and there, and that's about it. More often than not people tend to avoid doing work over their phones and tablets due to inexperience and fear of creating unnecessary trouble to themselves. That only goes to show that technology has once again found its way ahead of us, but this time on the mobile scene.
Pro tip: Try reading eBooks with the iBooks app on iPhone and iPad
While most successful businessmen and work enthusiasts have dabbled in working from their phones, it's far from what they could achieve if they were more into unconventional work dynamics and application of tech outside of the office. Many of us can and have improved our work ethics simply by accessing emails on our phone, and this has had a huge impact on communicating via emails. Check out this useful list of mobile email usage if you want to know some interesting facts about emails and the astronomic numbers regarding them. If your job is closely tied to files, sending emails, talking online to people, managing social media, digital marketing or something similar to that, here's how Cometdocs can help your cause and help you improve your production and tech skills.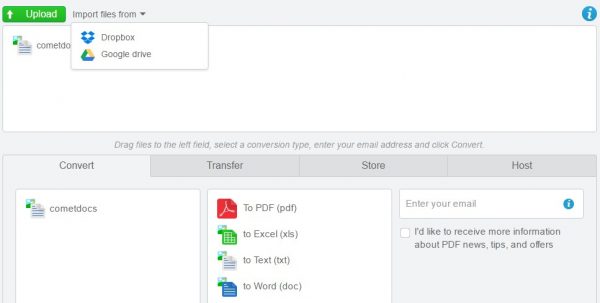 Cometdocs Free Online Cloud Storage
Cometdocs offers free online cloud storage to all of its users and fans. Their online cloud is truly up there among the best free storages offered on the market right now, due to its simplicity and effectiveness. On their website, you can convert, transfer, store and host files for free. Storing files is limited to registered users, however, registration is free as well so you won't spend a cent on this tool!
As you can see in the picture, from the get go you have a variety of options presented in front of you. As for uploading files, you can always upload the file from the hard disk memory of your phone. However, if you are a passionate DropBox or Google Drive user, this is your lucky day because you can upload files from those services as well. For this example, we chose a photo file, and as shown above, you can convert that file to PDF, XLS, TXT and DOC files.
PROS:
Online storage with integrated conversions between file types
Easy to use and innovative web interface
Supports multiple file formats
Sharing is easy
Secure and business oriented
Strong OCR engine
Cons:
Desktop app and mobile apps are conversion-oriented only (no access to storage)
Sometimes it can take longer than usual to perform when servers are being used by too many users at once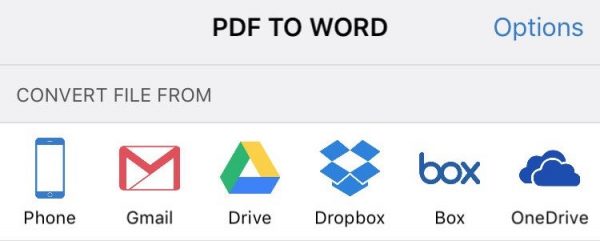 Convert PDF to Word
PDF to Word is a state of the art mobile app converter. In May 2016, Cometdocs has released their third major patch, which brought us a new user interface, integrated importing services and several smaller changes. It is safe to say that PDF to Word is ahead of the curb when it comes to conversion tech.
The converted file will be in .docx format, optimized for quick reuse
By downloading PDF to Word you are saying goodbye to having trouble editing, viewing, signing and converting PDF files, and saying hello to an app that is a real game-changer in the world of productivity. In only a few short steps you will be a step closer to signing that contract in your Gmail inbox, and here's how:
PDF to Word offers a wide array of importing services as one of its in-app purchases for a very small fee. You can import the file from the hard disk as well, although this is significantly hard on iOS due to their platform not having a file browsing system.
The converted file will show the importing services, as well as the ongoing conversions. Conversion is done on Cometdocs servers, so depending on how busy they are, the conversion time may vary as well as the size of the file that is being converted. Files are deleted in the next 24 hours for security reasons, so you know you are safe using PDF to Word.
PROS:
Modern and easy to use user interface
Optimized files after conversion
Several importing services
Safe to use due to security protocols
Cons:
Conversion time may vary due to servers overcrowding
Files can be hard to find without integrated importing services
Convert PDF to Excel
PDF to Excel is the twin app of the Word version. Both apps use the same technology when it comes to the converting engine and servers. Having said that, Cometdocs OCR (Optical Character Recognition) technology is what brings out the best of the Excel version due to these types of files often being more graphic than Word documents.
With PDF to Excel, you can convert both native and scanned PDFs with no significant differences in the end product. It is rare to see OCR features offered for free on a phone app. Nonetheless, Cometdocs has done it.
Converted files keep the original layout, charts, and tables when converted to .xlsx
PDF to Excel shares the same pros and cons as PDF to Word due to their similar technology and purpose. They are both Android and iOS friendly and can be found for free in both stores. The iOS version is available on iPhone and iPad as well.