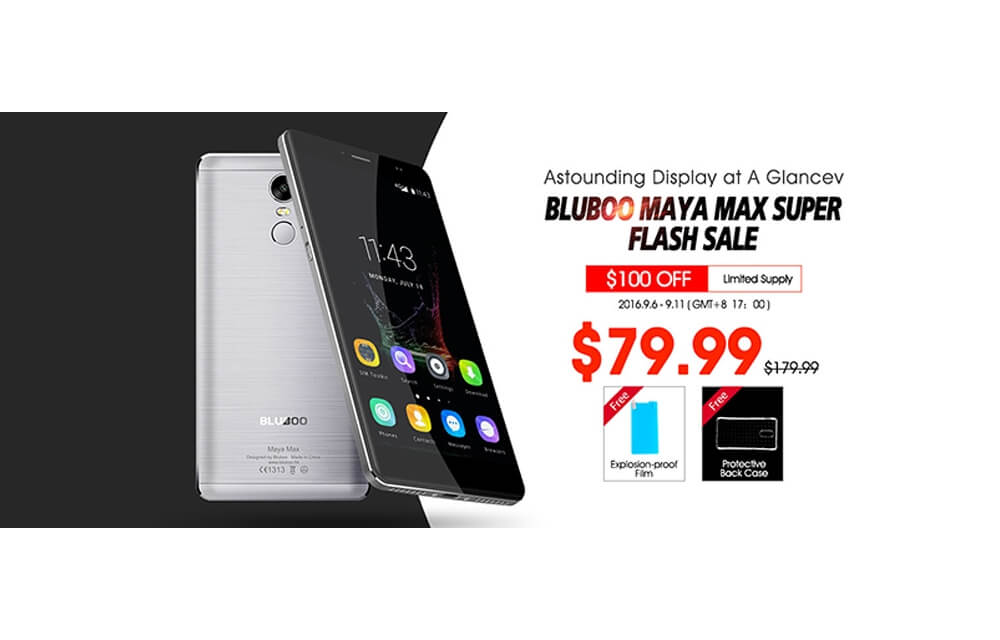 Bluboo Maya Max has been released a few days ago. In our last news about Bluboo Maya Max, we have reported about the new promotional sale coming soon from Bluboo. And now Bluboo announced their next promotional sale a few hours before. And as we have told, whoever buying Bluboo Maya Max at this sale event can get the explosion-proof film protector and protective back cover for free.
Bluboo is a rising Chinese smartphone brand. For the past few months, they are doing serious marketing to push their brand to next level. It starts with Bluboo Maya and now the trend continuing to Bluboo Maya Max.
This time it is "Bluboo Maya Max Super Flash Sale". This is a limited flash sale starting from September 6 and ends on September 11. The original price of Bluboo Maya Max is $179.99. In this flash sale, anyone can get this smartphone for $139.99. This is a straight $40 cut from the original price.
If anyone believe in their luck, there is a special event arranged to test it. That special event is Super Flash Sale, in which only one person have the chance to get Bluboo Maya Max for $79.99.
Here are the important specifications of Bluboo Maya Max – a 6 inches HD display made of JDI technology, MediaTek MT6750 Octa-core processor, 3GB RAM, 32GB Internal Storage, 13MP rear Camera, 8MP front Camera, 4200mAh Battery, Fingerprint Scanner and HiFi Audio.
The specifications clearly showing us that this is a mid-level performing smartphone with 6 inches screen. The 3GB RAM and 4200mAh battery are quite assuring factors about the performance. Surely, the offer price of $139.99 is a great saving. You can find more details on Bluboo Maya Max official page.