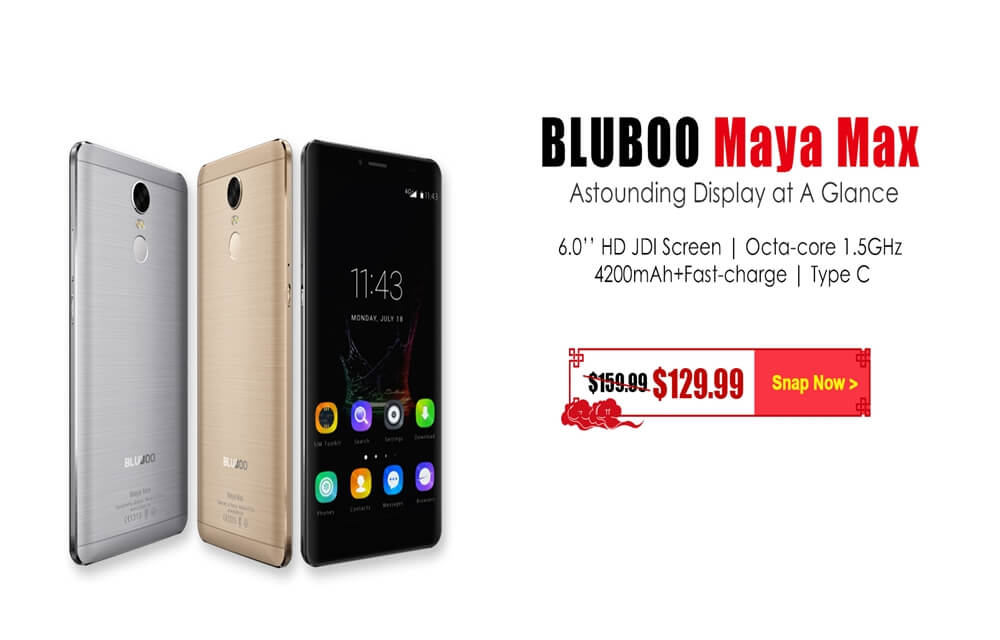 Bluboo Maya Max was released a few months back and still, it is doing well in the markets. As the New Year is approaching, there are plenty of promotional offers given by smartphone companies. Bluboo is no exception. They already announced the promo event on their website.
All the bestselling Bluboo Smartphones are available in the promo sale. Bluboo Maya Max has also found its spot in the event. As it is a long time from the release of Maya Max, here are some of the features of Bluboo Maya Max reminded by Bluboo.
Bluboo Maya Max made of 6000 series aluminum alloy which brought a sleek and neat look. The curvy design also helps it finds attractive and feels good to handle. The screen size is 6.0 inches and features JDI HD Display coming along with OGS technology. The above combination brings high-quality display with richer look, clarity, and sharpness.
The dual layer touch panel can even detect touches with wet and gloved hands. Under the hood, Bluboo Maya Max has MediaTek 6750 Octa-core processor which features 4G Cat6 support and couples with the Mali T860 GPU. The 4GB RAM which is large memory capacity for this smartphone allows smooth multitasking and fast operation.
The camera specs feature 13MP Sony 214 sensor and 8MP front selfie shooter. The massive 4200mAh battery adds more value to Maya Max. The quick charge support is also available. The other notable features are Fingerprint sensor with 0.1s unlocking speed, USB Type C support, Off-screen gesture, NXP Audio speaker, and VoLTE technology via 4G network.
The original price of Bluboo Maya Max is 159.99. For the above configuration, this price is reasonable and affordable. If you still want low price, you can get Maya Max at a low price but only for limited time. In this New Year Promo sale, Bluboo selling Maya Max for only $129.99. You can get more details in the official website or Bluboo's Official store in Aliexpress.