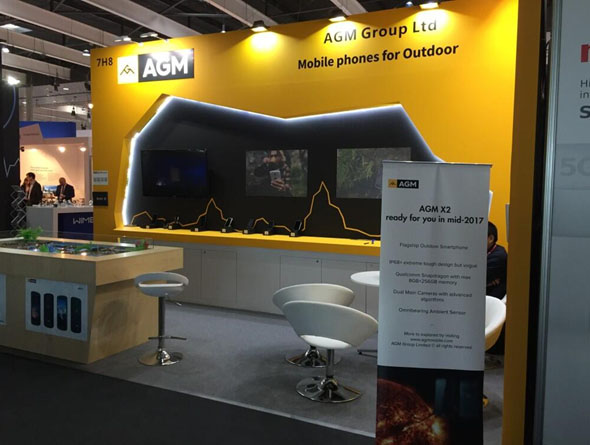 AGM, the Chinese rugged smartphone brand is now busy with unveiling the details of the upcoming smartphones, in the Mobile World Congress in Barcelona, Spain. There is a rumor which states three new smartphones in the AGM X series are going to be announced. As of now, the AGM X1 is the only smartphone in the X series. AGM X1 is also a successful product for AGM in the global market.
The three new smartphones expected to be unveiled are AGM X2, X2 Pro and X2 Max. According to the source, all of them would be powerful in terms of hardware configurations. AGM X2 is the lower version of the AGM X2 series. It is coming with the Snapdragon 820 SoC, 6GB of RAM, 64GB of internal storage, 12MP front camera and 16MP dual rear camera.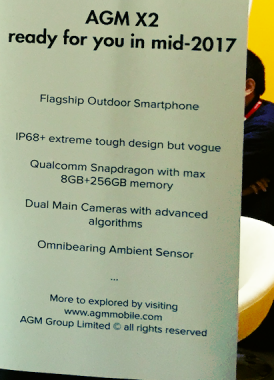 The second is the AGM X2 Pro. The expected specs are Snapdragon 820SoC, 8GB of RAM, 128GB of internal storage and a 6000mAh battery. Both the AGM X2 and AGM X2 Pro are very astonishing with the power packed specs. But the third one AGM X2 Max is coming with even higher grade than the other two.
The expected specifications and features of AGM X2 Max are Snapdragon 835 SoC, 8GB of RAM, 256GB of internal storage, 20MP front camera, 21MP dual rear camera, IP68 dustproof protection, and Quick charge 4.0 support for the battery.
Also Read – AGM X1 Specifications and Features – First Rugged Smartphone with Dual Lens Camera
You can check out the official website of AGM for more information. AGM may announce the above three smartphones in the MWC 2017. There is another information we got from our source. According to it, the designs of these three smartphones will be completely attractive even with the rugged features. Generally, the rugged smartphones won't look classy as the normal smartphones because of the rugged proofing factors. AGM may try to change that in the X2 series.