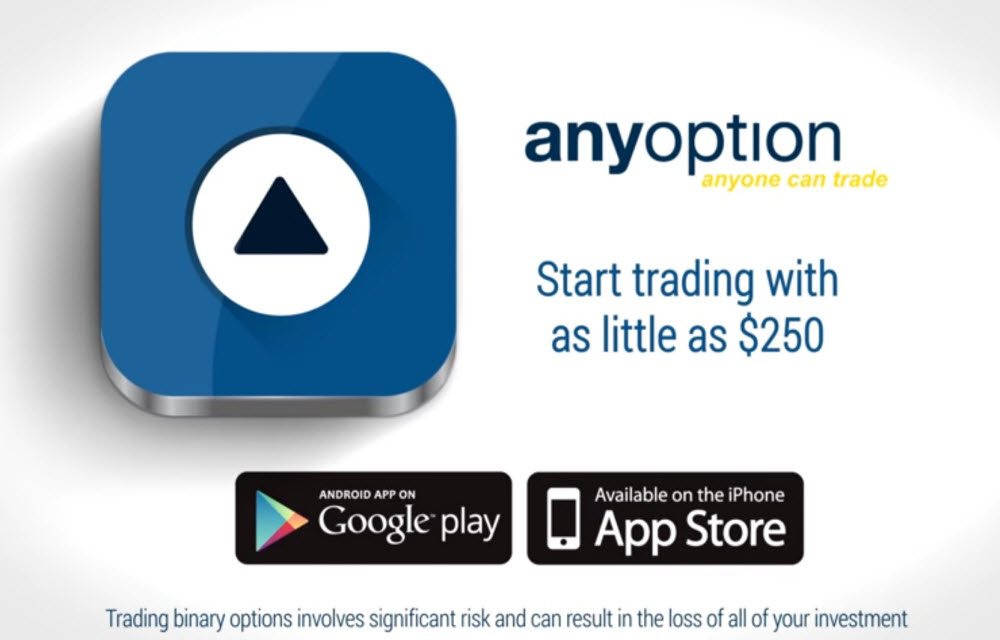 Binary options are also called all-or-nothing options and as implied by its name will result in two possible outcomes for every trade. A trader can either win his trade and gain decent payouts as high as 80% or in the worst case, lose his initial investment on that specific trade. If you are a beginner who is new to the financial markets, you can start investing in binary options without much market knowledge or technical expertise. Modern investors are very smart and efficient in managing their time. Hence, they prefer to watch the live market news and execute their trades anytime while they are on the go.
If you also wish to invest smartly, you should also have the anyoption mobile trading app installed on your smartphone. As a binary options trader, you have the flexibility to invest in more than hundreds of underlying assets from anywhere at any time. Created and maintained by anyoption, one of the pioneers in binary options industry since 2007, this state-of-the-art mobile option trading app will help both experienced and novice investors to trade against a wide range of assets including Forex currency pairs, market indices, commodities, and equities. Also, anyoption is the only trading platform which offers payouts as high as 80% and also rebates for lost trades up to 15%. Hence, if you are an experienced investor who can maintain a success ratio of more than 60%, you can certainly make a lot of money by trading with the anyoption mobile app.
Anyoption has been in the binary options market for more than a decade with trusted customers across the world.  Their trading platform is regulated by CySEC (Cyprus Securities and Exchange Commission) under license number 187/12.  They also received Fair binary options (FBO) awards for offering the maximum bonuses to their customers in 2015. They also won the "Most Innovative Broker" award in 2016. To provide the comfort for their clients to trade anytime on the go, they introduced a user-friendly and elegant mobile trading app in 2010. The latest 2.0.83 version is available for free download in Google play and can be installed on any smartphone running Android Version 4.0.3 and above.
The important features of anyoption
A secure and reliable trading app with a user-friendly interface and smoothly accessible menus.
Support for multiple languages to assist users from different regions trade in any language of their choice.
Users are offered choice to invest as low as $25 per trade and maximum of up to $20, 000. Also, you can invest in long-term or shorter positions by selecting expiry time of any range like 24 hours, 1 hour, 30 minutes or even15 minutes. You can also choose longer expiration periods like "End of Month", "End of Week" and "End of Day".
Ability to view the live market news and real-time charts on the home screen of the app.
Knowledgeable and approachable support team available on 24/7 basis to answer all your technical queries. Novice investors will be provided with an experienced account manager who will help them to make the most out of binary options by offering investment advice and market insights.
Choose from a vast collection of asset classes like Equities, commodities, market indices and Forex currency pairs.
Open your new trading account instantly from the app with a minimum deposit of just $250. Also, users have the option to deposit through various methods like Maestro, MasterCard, Visa, Moneybookers, Skrill, Neteller, UKash, Diners Club, Sofort, iDeal, Wire transfers, etc.
The app will seamlessly sync your trading data with anyoption web account. Hence you can switch between your accounts anytime without losing any live trading data.
Isolated trust account to manage clients' funds. You can easily customize your refunds and profit rates within the app to effectively manage your risks. You can also hedge your trade positions in real-time.
You can get e-mail alerts for important trade events and market news which will create volatility in the market and open up trading opportunities for you.  You can also access the Economic calendar inside the app to view all upcoming financial events.
Though there are a lot of positive features with this anyoption mobile app, still some limitations do exist which have to be resolved.
The app requires access to all your personal information such as your phone contacts, call options, photos and videos in your gallery etc. This may be considered by many users as an invasion of their privacy since all these personal information might not be really necessary for a trading app.
No possibility to view the remaining expiry time on your active trades.
Anyoption mobile app does not have support for advanced trading options like Binary 0-100, One Touch options, Bubbles, Option+ etc. which are available only on the web platform. Only regular binary options trading can be done usingthis mobile trading app.
Despite these minor limitations, the anyoption mobile trading app is used by more than 1 million binary options traders. Even if you are a novice trader who does not have in-depth knowledge of the market trends, you can still invest in binary options using this app and become a successful trader. You can access the anyoption Trading Academy with plenty of eBooks, training videos and trade guides etc., which can help you get started with binary options trading. The users can also visit anyoption blog to get valuable insights about the latest market trends and performance of various assets which will help them make well-informed trading decisions.