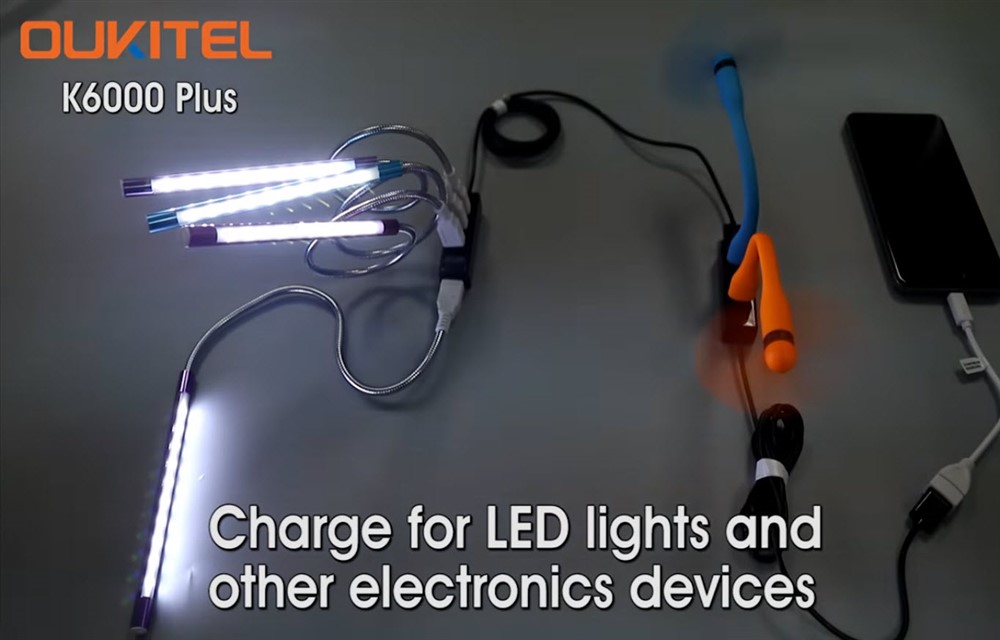 OUKITEL K6000 Plus is available for purchase on pre-order at $179.99. However, the company has released a new video, which showcases the real purpose of the OTG functionality. With the help of the powerful OTG port, you will be able to charge Android handsets, iOS smartphones, and tablets including LED lights and USB fans.
With a total runtime of fewer than 90 seconds, the video examines how OUKITEL K6000 Plus can be used to charge an Android phone and iPhone. The user connects the devices via the white OTG cable.
If you examine the video, you can see that you will be able to make use of OUKITEL K6000 Plus for charging LED lights and other electronic devices. The video examines how the phone can charge four LED lights using a USB extension port. The video also shows that you can use OUKITEL K6000 Plus for charging USB fans.
According to OUKITEL, the K6000 Plus has an ability to act as a power bank to charge other devices with ultra-low distortion and constant large volume. The phone can be used to charge Android, iOS devices including laptops, iPad, Bluetooth speaker, LED lights and any USB device. You will find an OTG cable inside the product box.
Towards the end of the video, you can see the design of OUKITEL K6000 Plus in various angles. The highlight of the phone is the addition of a 12V/2A charger, which can completely charge the K6000 Plus within 40 minutes. The integrated 6080mAh battery supplies sufficient power for the handset for an extended duration.
As part of the pre-order offer, you can buy OUKITEL K6000 Plus at $179.99. Moreover, you will also be eligible to avail bonus for all orders placed between April 5 to 12. If you provide your name and email on the campaign page, you will get protective and silicone case along with the smartphone.