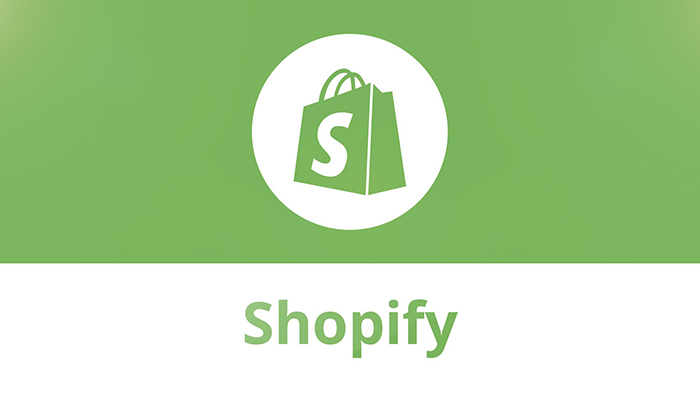 If you are looking for a new improved way to economize on Shopify themes, we are glad to tell you that you have found a correct place. Explore our Shopify subscription plans and save up to 99% ($43,000+). Being one of the most famous and simple in use eCommerce platforms, Shopify provides you with unbelievable intuitiveness and amazing support. However, you have to pay for Shopify, as your store will be completely managed by the Shopify team, so you will not have to spend money on hosting and maintaining the software. Your only task is to launch a theme, make it more personal, and upload your products.
An impressive design is something that you have to pay special attention to when you are creating an online store, because a remarkable design will help you not only to present your high-quality products, but also to provide support to your customers and overshadow your competitors.
What are the reasons to choose Shopify themes by TemplateMonster?
Shopify templates created by our team will ensure the best quality. You will be enchanted by the stylish modern design, a huge variety of customization options, an unimaginable amount of integrated plugins, and effective quick support that come together with each theme. Additionally, you will be sure that your online store functions perfectly on all devices, as the templates are responsive and mobile-friendly. Moreover, these themes are characterized by SEO-optimization, which will guarantee you better search results in different search engines.
So, now you have a unique opportunity to subscribe to one of our plans, save a great deal of money, and receive a lot more than you pay for.
Explore these subscription plans and compare the prices to choose the most suitable plan.
If you compare a Single Site License that costs $139 for 1 theme, you will definitely see how much you can save.
In the Bronze Plan ($228, $19/month), you get 60 themes, 5 themes/month;
In the Silver Plan ($348, $29/month): you receive 120 themes, 10 themes/month;
In the Gold Plan ($588, $49/month): you get an unlimited access to themes, unlimited downloads.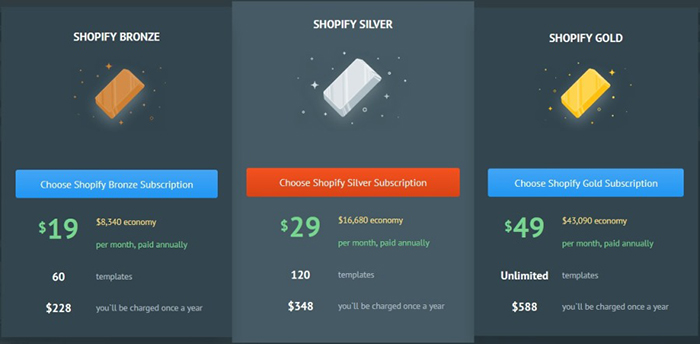 Why should I buy so many templates?
Probably, you will ask, 'Why should I buy so many templates if I'm running just one store?' The answer is quite clear. The more templates you download, the more possibilities to create your perfect website you have.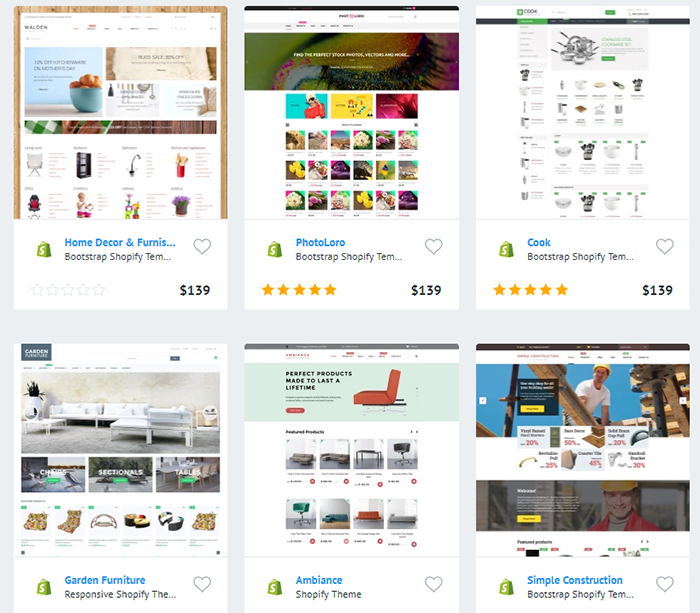 Which plan is the most suitable for you?
If you buy the cheapest 1-year subscription plan (Bronze), you will be able to download 60 themes that will only cost you $228/year. Even the biggest collections of templates in different categories include less than 60 templates, so you will be able to try and test any appropriate template for your shop without any limitations. You will be able to start with 5 themes at first, and then try 5 more themes every month during the year. This gives you a chance to compare the design and general look of the site, to try different features and pick up the one that suits you best.
Say, you run a business that deals with health or beauty, you can get access to the whole collection of beauty WordPress theme, and explore more than 20 themes from other categories that will be developed during the year. In case you decide to start another online store, the templates will become tremendously useful for you. This magnificent richness will cost you less than 2 regular theme licenses.
In case you purchase the Gold plan, you will get admission to all themes immediately. Consequently, you will spend less than $2 for each theme, and it is almost free. You will get a chance to develop more than 300 webpages for your clients for the price of 4 regular theme licenses.
The Silver plan is cheaper than the Gold plan and at the same time allows you to do more than with the Bronze plan. If you are a small team of developers and you do not wish to purchase so many templates at once, the Silver plan is a right choice for you. It gives you access to 120 Shopify themes during a year, which means 10 themes available each month.

For the developers
Every developer knows that subscription plans are in fact beneficial and money-saving. There is no need to purchase individual theme license for every web design project if you own such a subscription. That is why if you are a developer, saving money on templates will mean the opportunity to create more individual projects for your clients and to get more profit from them. The type of a subscription plan is dependent on the number of clients that you have. The more projects you want to launch, the more themes will be useful for you.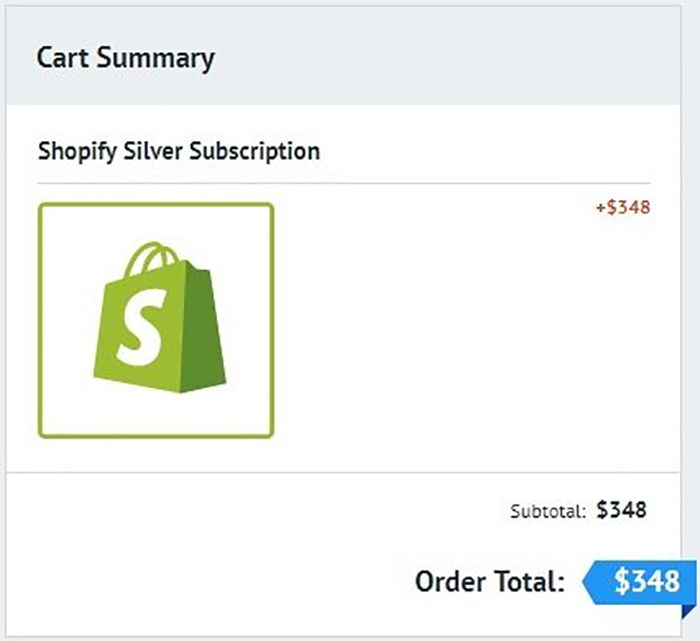 The Silver plan is a perfect fit for those who prefer a golden medium. It is suitable for smaller teams of developers that don't intend to buy everything at once. It gives you access to 120 Shopify templates over a year, which is 10 themes each month.
What are the customers' reviews?
'Shopify Service is Amazing'
The biggest problem that you can face when you buy a Shopify theme is the uncertainty. You cannot be sure that the template will suit your store ideally, as you do not know how different functions will perform in your store. If you have purchased just one template, you will have to come to terms with the fact that some functions will not be a perfect choice for your store. With the Shopify subscription, you are free to explore the functionality of templates as much as you wish to build the best online store that both you and your clients will enjoy using.
'Perfect Choice and Functionality'
Starting an online store is a challenge, undoubtedly. You have to take into consideration the design of your website, as well as the possibilities that you can offer to your clients. With Shopify membership, you are able to choose from different ready-made templates that are easy to customize. You can select various colors and styles that will completely satisfy you. After that, you start thinking about the site's functionality. Switching between different themes, which can seem to be similar, gives you an incredible opportunity to apply and test numerous features in order to make sure they are necessary for your online store. Why exclude a possibility to try and select the best options?
'Easiness in Running Businesses'
When you run several businesses, Shopify subscription is highly recommended to you. With Shopify themes by TemplateMonster you will get access to a great amount of incredible themes suitable for any business. These themes are characterized by numerous features that will make controlling your sales an easy and enjoyable experience. Moreover, your clients will love using effective search forms and online chats to clarify details about their choice. So, you will be able to sell more and make your business even more profitable.
Concluding
Are you ready to boost your eCommerce business? Do you wish to start building new projects of the highest quality? Choose a subscription plan now and enjoy working with efficient templates.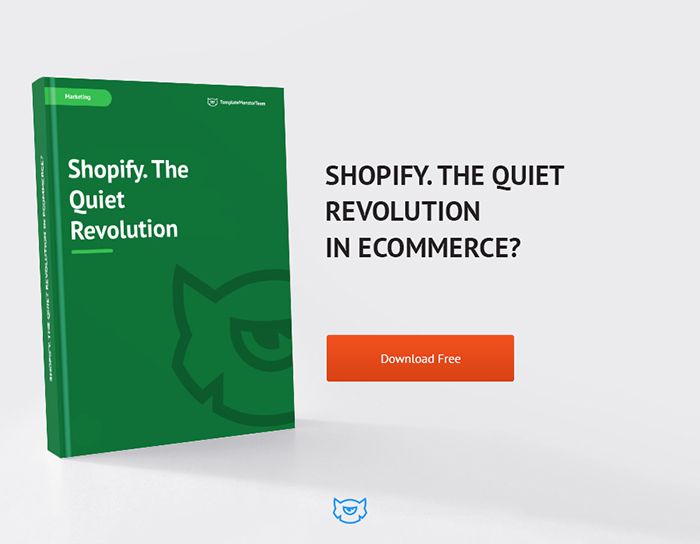 This a guest post by Lana Miro.