Are you going to give up your outdated iPhone and get a brand new one? Are the increasing photos and videos on your iPhone biting too much of the device storage? An iPhone is a mobile phone made by Apple that also plays music and videos. You can also use the iPhone to play games and run applications. If you want to listen to this purchased music on your Mac, you can easily transfer it over using iTunes, a free application that Apple installs on every Mac.
You can use iTunes to listen to music and manage your iPhone. As is known, Mac OS and iOS are both closed systems, and people need to use iTunes or third-party transfer programs to accomplish the data transfers between iOS devices and Mac computers.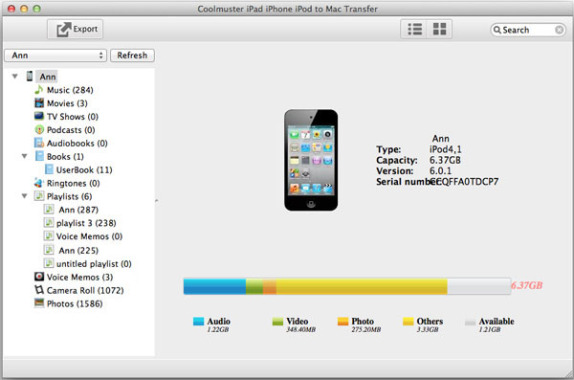 Why you need to transfer music from an iPhone or iPod to a Mac, Perhaps your original music library was on a Mac, was synced on to an iPhone, and then the original Mac died. Or your music is spread across more than one location. iTunes is helpful for the data transfers of purchased items, but it will erase the non-purchased items during the transfer. This is positive on whatever OS you use.
Sometime when the official version of Mac OS X Yosemite is released, the users will still only be able to transfer the purchased items. But if the users take advantage of the third-party iPhone transfer software, they can transfer the music from iPhone to Mac computer without the sync of iTunes.
Key Features of Coolmuster iPhone/iPad/iPod to Mac Transfer
1) Export anything on your iPad iPhone iPod to Mac for backup or manage as you like.
2) Different view modes design to meet different users' needs. Work independently.
3) 100% compatible with iPhone 6/6 Plus, iPhone 5S/5C, iPhone 5, 4S, iPod touch 5, iPod nano, iPod classic, iPod shuffle, iPad mini, The New iPad, & more!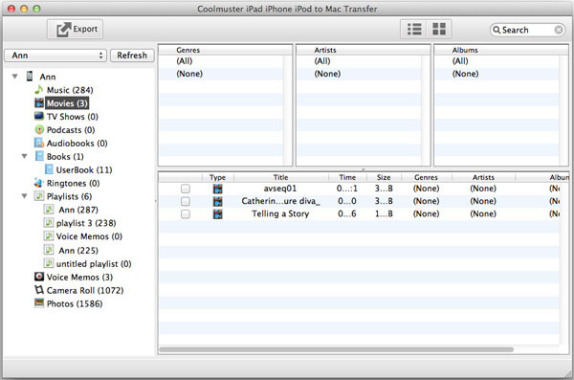 Here we would like to recommend Coolmsuter iPhone/iPad/iPod to Mac Transfer program, which offers an ideal solution for backing up iPhone contents. With this transfer tool, you will never meet with the sync problems such as erasing content, replacing content, deleting content, unauthorized computer, etc. that occurred while using iTunes. It is an easier, faster and more convenient iPhone manager tool than iTunes. For transferring messages or contacts, read this article to save text messages from iPhone to Mac computer.
You can sync music from a single PC or Mac very easily and intuitively using iTunes, but transferring music in the other direction seems to be impossible. So if the user wants to put the music from iPhone running Mac OS X computers, they will have to use the iTunes., iPhone users can purchase music from iTunes library, and it is easy to do.