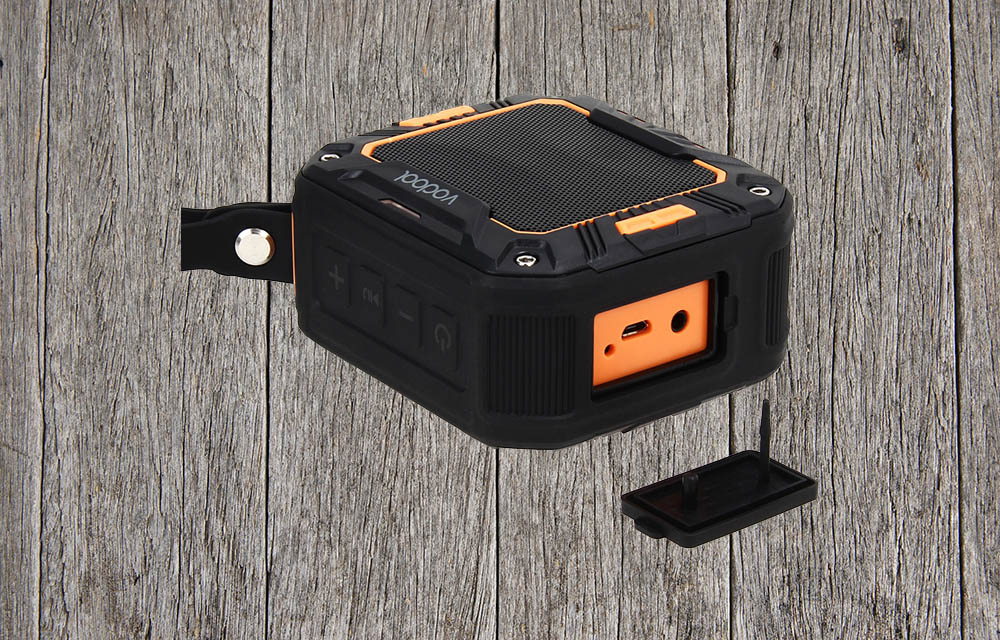 The Vodool Outdoor Portable Waterproof Dustproof Shockproof Bluetooth 3.0 Speaker Sound Box is an incredible product that delivers an amazing experience and will blow up your expectations big time. One of the impressive features of these amazing speakers is the 3.0 Bluetooth technology that comes with it. It helps you wirelessly connect from up to 33 ft away with your Android, iPhone, Windows devices and Bluetooth-enabled music devices.
Vodool Waterproof Bluetooth Speaker Build Quality
The speakers deliver excellent sound quality and will make you forget every other similar speaker you have used so far. The bi-directional sound quality for its size achieved through a 3W driver, and passive subwoofer provides high fidelity music and a robust bass.
Talking about the physical attributes of the device, it is made up of TPU and ABS material and is very lightweight to fit in your backpack. The portable and durable product come with a three proof design i.e. Dustproof, Waterproof, and Shockproof. It helps protect your speakers from water splash, light rains, mud, sand, and dust. This feature makes these speakers ideal for outdoor activities like camping, hiking, cycling, trekking, etc. The device gets fully charged within 3-4 hours and provides up to 10 hours of music playtime.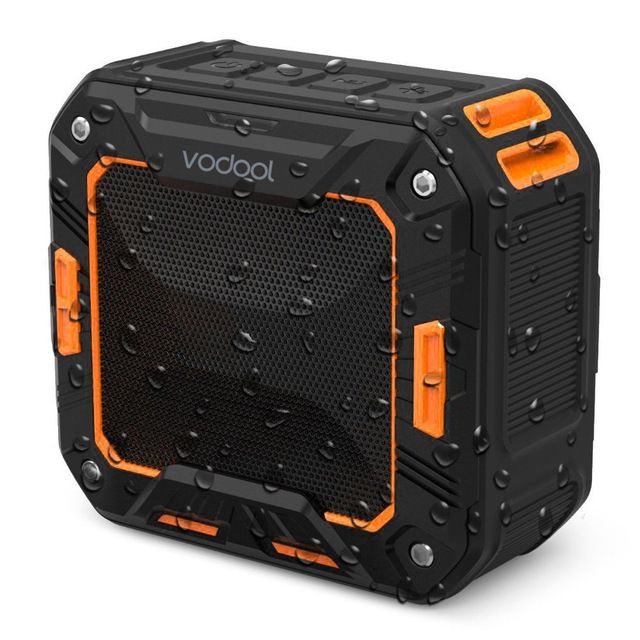 Performance
The device has a maximum power output of 3W and a charging voltage of 5V. The 2000mAh battery capacity has a charging time of 3-4hrs. With the powerful battery of 2000mAh, you get an outstanding continuous playtime up to 10 hrs. The speakers come with a USB charging interface to enable easy access to the charging at any place and any time. The Bluetooth version 3.0 class II supports A2DP V1.2 and AVRCP V1.4 profiles while having a transmission distance of 10m. The 3.5mm audio interface supports AUX external audio output.
The speaker has easy volume control on the side with power on/off button as well. The stunning design and great looks compliment the styling of the device.
The rich sound quality is an impressive feature with a pretty decent bass creating some real loud noise. Connecting the speakers to mobile phones is quite easy. It just takes a minute unwrapping and you could listen to the music collection of your own. Also connecting it to a laptop is no problem, and it works efficiently with the PC.
The sound which speaker emits is great and crisp. Even at the full volume, none of the music or sounds is distorted or has any static that overwhelms the sound. The device is made up of some pretty tough quality material which adds to its weight. Overall it is very durable and covered in tough rubber to protect the inside electronic elements from any damage.
Operating this speaker is quite an easy task, and the Bluetooth pairing takes only a few seconds. The device has a Blue light indicator which flicks quickly when the device is ready for pairing. When the pairing is successful, the blue light becomes stable. The steady Green LED appears when the AUX status is on. Similarly Red steady light indicates charging status and Green steady light indicates Full-charged.
There are control buttons on top of the speaker and a cable connection output on the side. The overall quality of this speaker is way above the expectations, and you can use it as a poolside speaker or a shower speaker at any time.
Verdict
Overall, the Vodool Bluetooth speaker is a bang for buck. It has robust build quality, good sound and battery life.
Pro's
Perfect sound quality.
Long battery life.
Solid and waterproof, shockproof and dustproof.
Con's
The distance matters a lot with a Bluetooth connection and sometimes 10m seems to be less satisfying to some users.
Vodool Waterproof Bluetooth Speaker Review