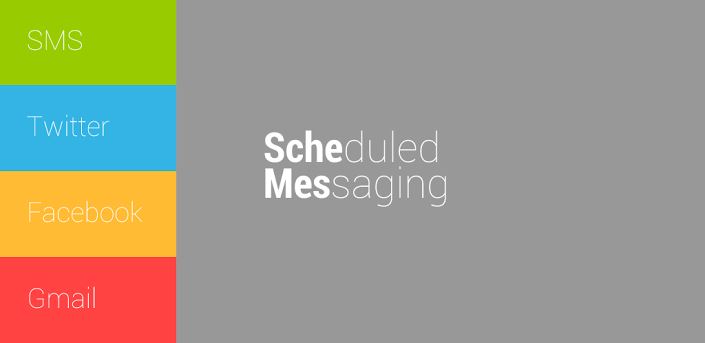 Managing and scheduling time is very important for every person. If you a workaholic person with perfect time management Schemes app is for you. 'Schemes' is a simple app that lets you schedule four types of social communications. You can easily schedule SMS, Twitter, Facebook, Gmail messages. When you first install and open the app, you'll get a Welcome screen that will help you log in to Twitter, Facebook, and Gmail.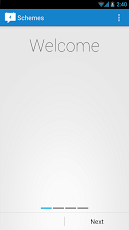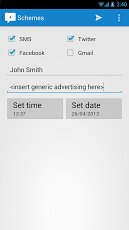 The user interface of the app is pretty straightforward and easy to understand. After completing logging process, in the first run, the app shows welcome screen. Press next and app messages screen appears. Here the app messages list is empty because you haven't added anything yet. Tap the Compose icon on the blue bar at the top. Here you can choose the service you want SMS, Twitter, Facebook and Gmail messages. On the bottom, you'll find name and message place and then you can set time and date. The app is worked only when your mobile is connected to the Internet. You can set confirmation notification after successful delivery.
The app works pretty well on any Android device, we tested the app on Samsung Galaxy S5, S6, Asus Zenfone Zoom, OnePlus 2 and Lenovo K3 Note.
Schemes App Features
Send scheduled SMS, Facebook statuses, Tweets or Emails from your device
Clean Material Design UI
Notifications on sending
All messages are added to their respective threads in the Messaging app
Cancelable, editable messages
Conclusion
Overall, I find Schemes is a pretty useful app for regular Facebook, Twitter, SMS and Gmail users. After using Schemes you can't miss single message to your friends, colleagues and family members for their marriage days, birthdays or any important occasions. You can set any time period to schedule your messages, all you need is an Android device and Schemes app installed.