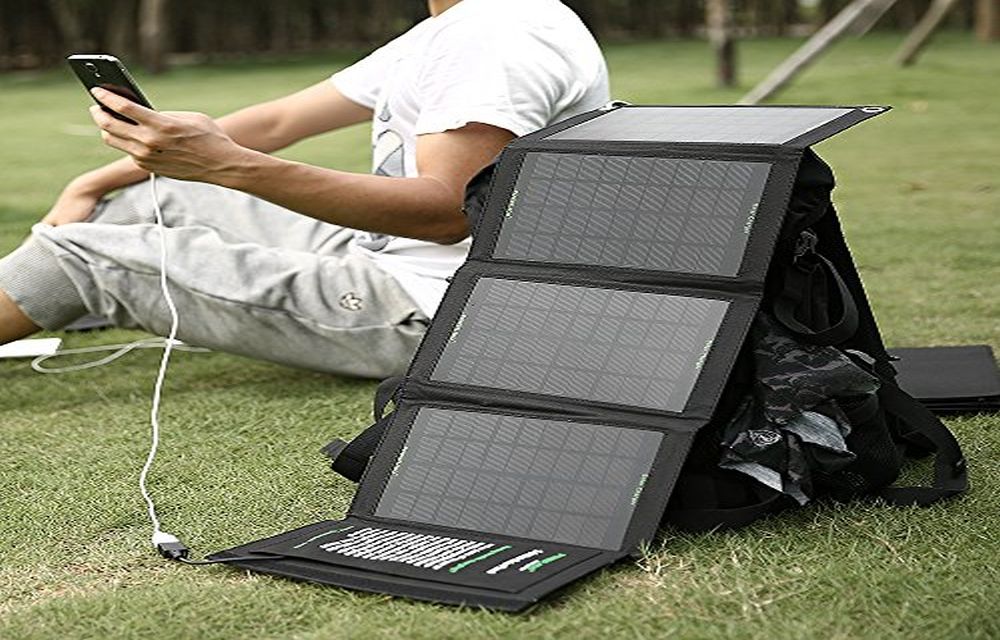 Once you have purchased a screen protector and case, you should get serious about advanced tablet accessories. These devices now have more products than ever that are designed to take full advantage of their amazing specs and hardware. Anyone that wants to make the most out of their mobile technology should take a look at these five jaw-dropping accessories and upgrades.
1. Foldable Solar Charger
No matter how advanced these devices get, maintaining a charge remains a problem for the avid tablet user. Even with expanded battery packs, multi-tasking on any tablet will usually drain the battery within just a few hours. As an alternative to staying within a few feet of a socket, a foldable solar charger can be used to keep the tablet running throughout the day. Currently, these charges will take around 3 to 5 hours to fully charge the tablet depending on the weather conditions. The foldable design does make them extremely portable and they often weigh in at under a pound.
2. Mobile Stands
While some owners may want to call these robots, it is probably more appropriate to refer to them as mobile stands. These stands have tablets attached to the top which will allow the owner to control them wirelessly from anywhere in the world. The low-end models are nothing more than a suction platform with mobile joints that can be moved to "look" around the room with the tablet's front-facing camera.
The more advanced options have actual wheels which make the tablet mobile. The uses are currently limited for this technology, but it is a great starting point for when one day businesses may be completely run by remote workers.
3. Universal Remote Dongle
When it comes to home automation, one of the first places that many will look is their home entertainment center. A universal remote dongle and app will allow anyone to take full control of their TV and movie watching experience without ever having to leave their seat. Even the base models will allow users to "swipe" whatever is on their tablet screen to their TV for services such as Netflix, Amazon Prime, and Hulu. These devices also provide one-touch options for bringing up information on the show, rewinding, setting recording timers, or even purchasing songs that are playing.
4. Digital Microscopes
Microscopes are no longer clunky devices that require long periods of adjusting to get just right. Digital microscopes can now fit in the palm of a hand and will stream video and still pictures directly to a nearby tablet. These microscopes often have a resolution of 1.3 megapixels or higher and can be used by medical professionals, jewelers, or amateur photographers. The accompanying software often boasts features such as geotagging, automatic cloud storage, and remote zooming and time lapse switches.
5. Diagnostic and Monitoring Router
On average, adults now have 1.57 mobile devices per person, along with all the other Wi-Fi dependent computers in the home. For those that have gotten a new tablet, this can result in slow internet speeds. Most routers do come with some basic software to get a glimpse about overall data usage, but a diagnostic and monitoring router can see exactly how much bandwidth each device is using.
These devices have custom tablet apps that also allow the user to throttle certain devices' bandwidth or disconnect them completely when they are no longer being used.
Tablets have helped to blur the lines between mobile smartphones, home computers, and laptops. With the growing list of accessories, there is no end in sight for the products that can be used to take full advantage of their high-def cameras, upgraded hardware, internet connectivity, and slim design.