Google Chrome is a robust browser with ton of great extensions support. If you have installed too many Chrome extensions and willing to manage and disable them in one click try One Click Extension Manager. It is a very useful and handy browser extension manager.
Why Disable Extensions?
Why would you ever want to disable all extensions once? Sometimes for downloading files or updating files you want to disable extension on Chrome browser. And some extensions eats up all the browser resources and buggy sometimes, you can disable them all in one click.
Unfortunately, Google Chrome doesn't support one click disable facility, every time you want to disable an extension you need to go to manually to settings, which is a very time taking process.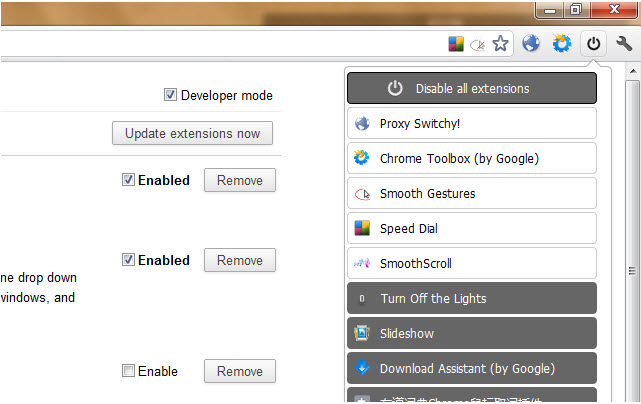 Disable All Chrome Extensions With One Click Extensions Manager
One Click Extension Manager is a simple Chrome extension that lets you to enable and disable Chrome Extensions with one click. Download and install the extension from Chrome Web store, once installed it sits next to your address bar. Whenever you want to play with extension simply click the icon and click on Disable all extensions tab. After clicking disable the tab turn into enable mode, you can click Enable all extension to re-enable them.
One Click Extensions Manager also provides individual remove (uninstall Chrome Extensions) or toggle option from the same menu. It is available for free in Chrome Web Store.
Download One Click Extension Manager.