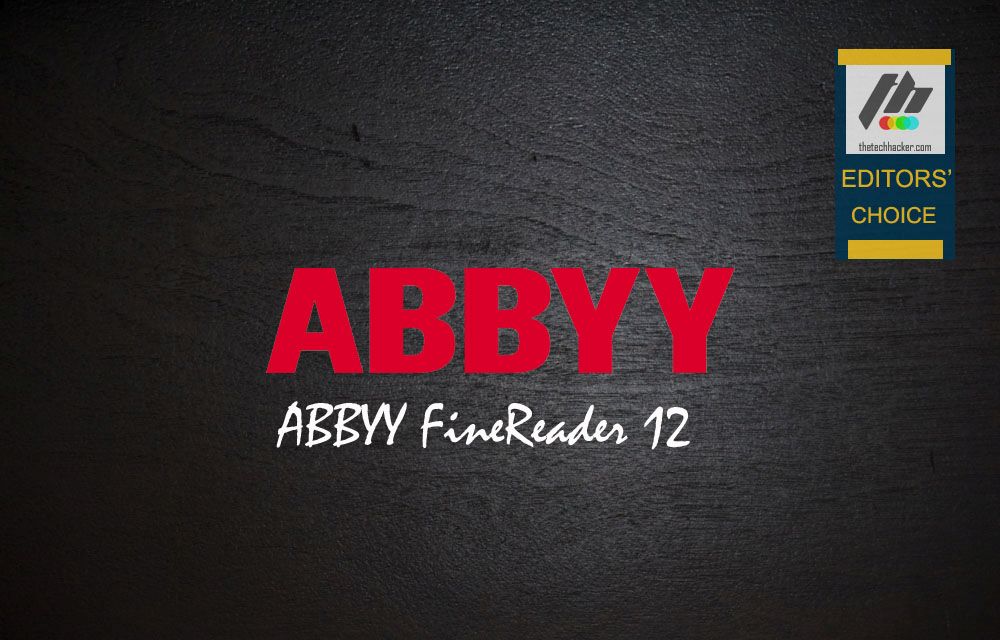 OCR is a technology that converts images of text into editable doc or note files, word, PDF and many formats. For example if you are a student and you took a picture of the notes and you want soft editable copy of it. What will you do? What if you are doing data entry work where you have to type what is given in the image in notepad? If you are energetic and if you can type the content that is good and excellent. But what if you can't? The only option you have is to use OCR enabled software. OCR Software's saves lot of time by skipping the manual typing tasks by converting images to editable documents.
What is OCR?
OCR stands for Optical Character Recognition. This technology recognizes the characters in image or PDF whatever it is. There are many software's which supports this technology but premium ones are the best, which have special features those are not present in other ones.
Here we are with ABBYY FineReader 12. Which is one of the best OCR software's we have till now.
What is Abbyy FineReader?
Abbyy FineReader is a Windows program equipped with OCR technology, it help you to scan the document from your scanner to MS Word, PDF and even helps you to scan and save it as image for fast process.
It coverts your image file to PDF, word, EPUB, HTML, text and vice versa with all the formats.
Abbyy FineReader Review
Features of Abbyy Fine Reader 12
Edit scanned document: I would like to illustrate this feature. If you scanned some document or newspaper and given output as word then you can edit in the software itself. It by default opens converted file in MS Word. If you choose MS word and the default viewer of that file format.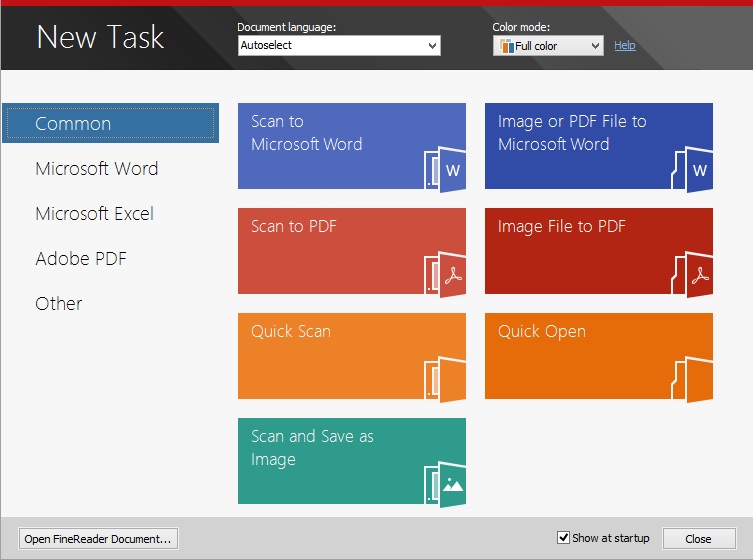 Supported Formats
Scan to MS Word
Scan to MS Excel
Scan to PDF
Scan to Image
Scan to HTML
Scan to EPUB
Image to PDF
Image or PDF to HTML
Image to EPUB
Image or PDF to Excel
Image or PDF to Word
Search and Archive documents
This software will not only convert the formats but makes the documents searchable, editable completely.
Extract from pictures
Abbyy will help you to extract information from different formats of images and makes that information editable and searchable.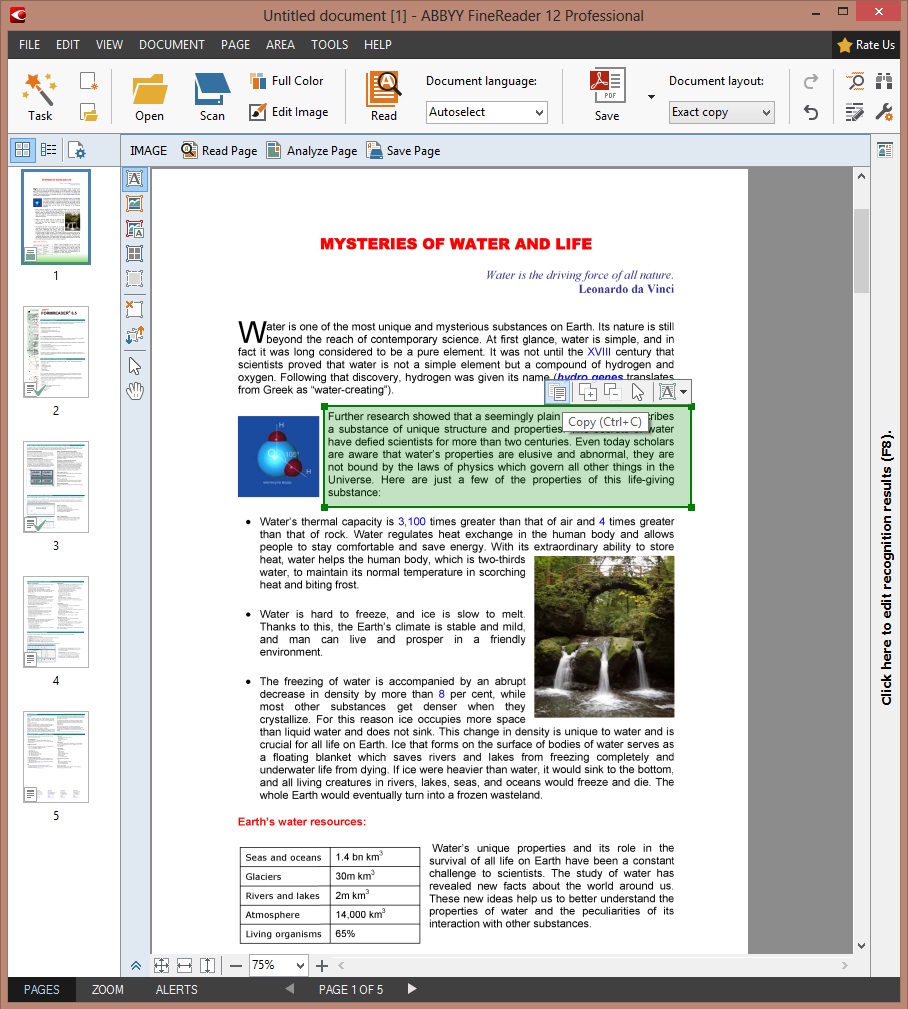 Input or importing format supporting
PDF
BMP
PCX
DCX
JPEG
JBIG2
PNG
TIFF
XPS
DjVu
GIF
Saving or exporting format supporting
DOC
DOCX
XLS
XLSX
PPTX
RTF
PDF
HTML
CSV
TXT
ODT
DjVu
EPUB
FB2
BMP
TIFF
PCX, DCX
JPEG
JBIG2
PNG
Language support
Abbyy supports different languages. Approximately 190 languages, that's a big number in which 48 languages has dictionary support. Here is the list and the languages has dictionary support marked with +.
Abkhaz
Adyghe
Afrikaans
Agul
Albanian
Altaic
Arabic (Saudi Arabia) +
Armenian (Eastern) +
Armenian (Grabar) +
Armenian (Western) +
Avar
Aymara
Azeri (Cyrillic)
Azeri (Latin) +
Bashkir +
Basic
Basque
Belarusian
Bemba
Blackfoot
Breton
Bugotu
Bulgarian +
Buryat
C/C++
Catalan +
Cebuano
Chamorro
Chechen
Chinese Simplified
Chinese Traditional
Chukchee
Chuvash
COBOL
Corsican
Crimean Tatar
Croatian +
Crow
Czech +
Dakota
Danish +
Dargwa
Dungan
Dutch (Belgian) +
Dutch +
English +
Eskimo (Cyrillic)
Eskimo (Latin)
Esperanto
Estonian +
Even
Evenki
Faroese
Fijian
Finnish +
Fortran
French +
Frisian
Friulian
Gagauz
Galician
Ganda
German (Luxembourg)
German (new spelling) +
German +
Greek +
Guarani
Hani
Hausa
Hawaiian
Hebrew +
Hungarian +
Icelandic
Ido
Indonesian +
Ingush
Interlingua
Irish
Italian +
Japanese +
Java
Jingpo
Kabardian
Kalmyk
Karachay-Balkar
Karakalpak
Kasub
Kawa
Kazakh
Khakass
Khanty
Kikuyu
Kirghiz
Kongo
Korean (Hangul) +
Korean +
Koryak
Kpelle
Kumyk
Kurdish
Lak
Latin +
Latvian +
Lezgi
Lithuanian +
Luba
Macedonian
Malagasy
Malay
Malinke
Maltese
Mansi
Maori
Mari
Maya
Miao
Minangkabau
Mohawk
Moldavian
Mongol
Mordvin
Nahuatl
Nenets
Nivkh
Nogay
Norwegian (Bokmal) +
Norwegian (Nynorsk) +
Nyanja
Occidental
Occitan
Ojibway
Ossetian
Papiamento
Pascal
Polish +
Portuguese (Brazil) +
Portuguese +
Quechua
Rhaeto-Romance
Romanian +
Romany
Rundi
Russian (old spelling) +
Russian +
Russian with accents new +
Rwanda
Sami (Lappish)
Samoan
Scottish Gaelic
Selkup
Serbian (Cyrillic, Latin)
Shona
Simple chemical formulas
Slovak +
Slovenian +
Somali
Sorbian
Sotho
Spanish +
Sunda
Swahili
Swazi
Swedish +
Tabasaran
Tagalog
Tahitian
Tajik
Tatar +
Thai +
Tok Pisin
Tongan
Tswana
Tun
Turkish +
Turkmen (Cyrillic)
Turkmen (Latin)
Tuvinian
Udmurt
Uighur (Cyrillic, Latin)
Ukrainian +
Uzbek (Cyrillic, Latin)
Vietnamese +
Welsh
Wolof
Xhosa
Yakut
Yiddish
Zapotec
Zulu
Supported Applications
Microsoft Word 2003 (11.0), 2007 (12.0), 2010 (14.0) and 2013 (15.0)
Microsoft Excel 2003 (11.0), 2007 (12.0), 2010 (14.0) and 2013 (15.0)
Microsoft PowerPoint 2003 (11.0) (with Microsoft Office Compatibility Pack for Word, Excel, and PowerPoint 2007 formats), 2007 (12.0), 2010 (14.0) and 2013 (15.0)
Apache OpenOffice Writer 3.4, 4.0
Corel WordPerfect X5, X6
Adobe Acrobat/Reader (8.0 and later)
Barcode support
| | |
| --- | --- |
| Code 3 of 9 | Check Interleaved 2 of 5 |
| Check Code 3 of 9 | Matrix 2 of 5 |
| Code 3 of 9 without asterisk | Popstnet |
| Codabar | Industrial 2 of 5 |
| Code 93 | UCC-128 |
| Code 128 | UPC-A |
| EAN 8 | UPC-E |
| EAN 13 | PDF417 |
| IATA 2 of 5 | Aztec Code |
| Interleaved 2 of 5 | Data Matrix |
| QR Code | Patch Code |
These are the features of Abbyy fine reader. Wait not yet completed you will find some awesome features in usage section.
Usage
When you launch the program it will show you different tasks and you need to choose what you want and then it will take care about remaining things.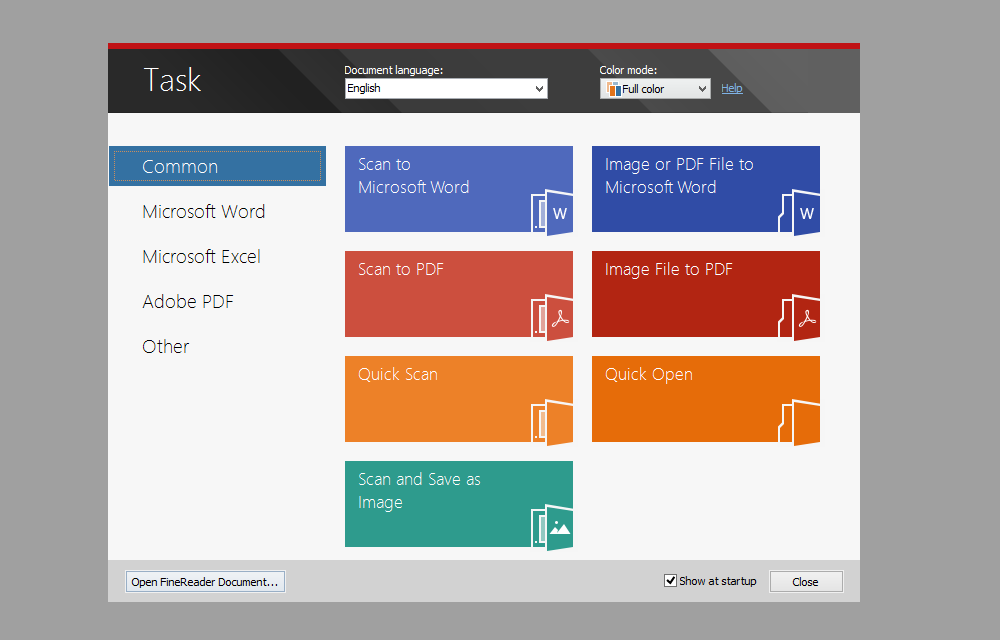 Sometimes the images may not be extracted exactly or it may be some graffiti writings that may not be understand by Abbyy. At that time you can teach your software or train it to recognize those letters. You can do that in the preferences and reading, you are the tutor to your software. I am not saying about teaching in this article because this is review only, I will be posting training Abbyy tutorials soon.
The application is divided into three panels. The left panel gives the preview of the image, and the one on the right side shows the extracted text, at the bottom you can see the full size preview of the original image.
Desktop Client
Abbyy comes with handy desktop client which hides in the tray of windows for instant conversion. If you want to convert any webpage to any format then you can do that tool. It is just a simple screenshot tool to convert.
Features Gallery
PC Requirements
Operating System

Microsoft® Windows® 8.1 / 8 / 7 / Vista® / XP
Microsoft Windows Server® 2012 / 2012 R2 / 2008 / 2008 R2 / 2003
For working with localized interfaces, corresponding language support is required

Hardware

PC with 1 GHz or higher
1024 MB RAM
In a multiprocessor system, an additional 512 MB of RAM is required for each additional processor core
850 MB of hard disk space for typical program installation and 850 MB free space for optimal program operation
Video card with 1280×1024 resolution or higher
Internet connection required to activate your serial number. Some FineReader 12 versions support activation by phone in addition to activation by internet. Connection charges for telephone or Internet may apply.
Verdict
This is the best software which is equipped with OCR that I have ever seen. Little pricey but still the best in the market and go for this, you need not to have second thought.
visit Abbyy FineReader 12.