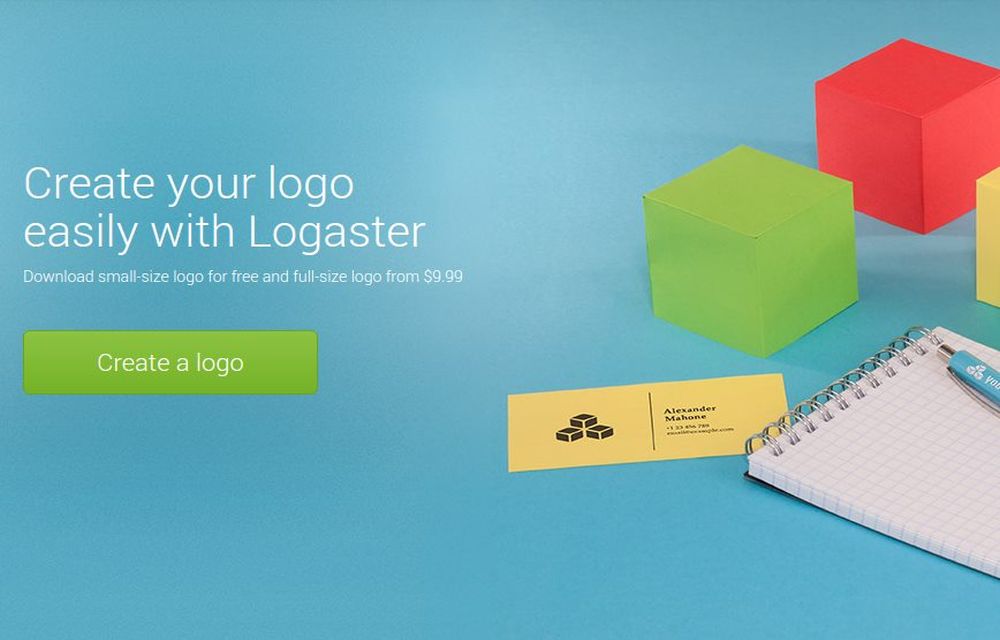 Logo plays an important role in the identity of every big brand that exists today. People recognize a brand by its logo. They identify quality, reliability, value and trust with a logo. Whether you are a startup or business with limited budget, you cannot ignore the importance of a logo. Even if you are running a blog or a low-budget innovative business, a logo is something that goes beyond and reaches out to people.
A logo can give your venture a corporate identity without concern how small your company is. It can change the perception of your business or professional pursuit and add a level of trust and reliability to its image.
If you are confused whether or not you should get a logo because you are not sure of your budget, you should check the affordable logo designing services from Logaster.
Logos & Logo Creation
Logaster is a professional and affordable online logo designing service. The company has already created a record number of logos for over 6 million users, and the tally keeps growing every day. If you are looking for truly affordable logo designing services, this is a full-time, all-purpose online service that caters to the demands of all industries. There is no industry that this service has not worked for.
The service is available and reachable 24 hours and 7 days a week. Most small business owners think that designing a long, cumbersome and expensive affair. With Logaster, it takes just a few minutes just to have your logo designed and ready to use.
Logaster's clientele hail from over 167 nations. You can use your logo on everything including your website, blog, letterheads, business cards and billboards.
Advantages
There are many advantages of using Logaster's logo designing services, besides the affordability factor.
Your logo is created automatically. You can have different versions of your logo created in just minutes. You can also compare the different logos and discuss them. Logaster has additional instruments for logos editing. All the different logos can be saved to your account so that you can view them any moment you want.
This is a unique process that allows your logo to be created in just minutes.
A Simple Process: There is no need for having any technical knowledge or skills to have your logo designed. It doesn't matter whether you are professional or a business owner without any technical design skills, anyone can have their corporate identity created with ease.
Customize Logo Designs: Once the multiple logo designs are created, you can access them any time to make changes. In fact, you can edit them even after you have purchased the logo.
Affordability: Logo designing has never been as affordable as with Logaster. This is probably because this designing service is designed with the goal to allow small businesses, entrepreneurs, bloggers and the like to build their corporate identity without having a large capital.
High-Quality Images: When it comes to logo designing, no services can take image quality for granted. It is one of the basics of designing at any level. With Logaster quality is not compromised for affordability. All design elements are finished in vector format – SVG or PDF and raster format – JPEG or PNG. Whether you want to use your logo for your website, business card or billboards, you get 100% image quality. The logo designing service has a vast database of fonts and icons of the highest quality. You will not have to give a second thought about the quality of your logo's final copy.
Courteous Customer Support: If you have any queries or issues, you could readily head to the customer support section and clear your doubts. Their support team is both knowledgeable and courteous. The FAQs section provides answers to most questions, but then you can contact them directly too.
Logaster provides the perfect combination of affordability and high-quality logo designing. All the hefty amount that you would be paying to other designers can be saved and spent on growing your business.
How To Use Logaster?
Using Logaster is as easy as entering your company name, business category, and getting relevant logo options. You can choose from all the options to determine the basis for your logo's design.
There are two versions of how you can use Logaster's, and the first one is a free one.
Free Mode
You can do a lot in the free mode:
Create multiple versions of logo designs.
Compare and discuss the created logos.
Download small-size version of the logo which can be added to your site.
Affordable Mode
This is the preferred mode if you want the high-resolution version of the design. In this mode you can do the following:
You can have high-resolution logos designed to your requirements.
You can also have new products generated automatically to your specifications.
You can have your logo designed with Logaster for as little as $9.99. Although there is a lower-resolution free version, it is always recommended to choose high-resolution in design.
Conclusion
There are millions of people who have just started their small business or are in the early stages of running their company. All of them have an idea of what a logo means and what it can do for their business. However, most don't have the budget or haven't yet given a thought to it. This is where an affordable logo designing service like Logaster comes into the picture and makes things possible.
Logaster's unique automatic designing process allows you to have your corporate identity created in minutes without having to deal with the basics of designing. If you are someone who is not certain about having a logo or how it can enhance your blog or business, having an affordably-designed logo and other design elements will only have a positive impact on your business.
Logaster has additional instruments for logos editing.